Removing Firefighter Foam Chemicals From Military Bases Could Cost $2.1B: GAO Report
June 30, 2021
By: Irvin Jackson
A new report by federal officials estimates cleaning firefighter foam chemical contamination on military bases could cost U.S. taxpayers billions of dollars.
The Government Accountability Office (GAO) issued a report (PDF) to congress this month, calling for the Department of Defense (DOD) to release more information about the price of cleaning up per- and polyfluoroalkyl substances (PFAS) from various military bases nationwide. However, the report suggests that price tag will likely exceed $2.1 billion.
PFAS are a chemical component of aqueous film-forming foams (AFFFs), which are used to fight petroleum-based fires, and are commonly used on bases during training for both military and civilian firefighters.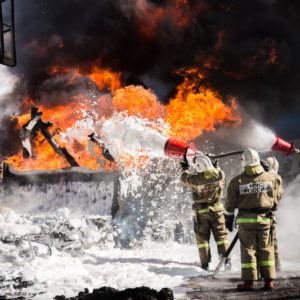 The chemicals are known to persist in soil and can lead to water contamination. This is, in part, because PFAS do not break down and stay in the environment, and the human body, for extremely long periods of time, which has earned them the nickname "forever chemicals."
PFAS were first introduced into the manufacturing industry in the 1940's, because of their ability to resist heat, grease, stains, and water. However, since then the chemicals have been linked to a myriad of adverse health effects including liver damage, thyroid disease, decreased fertility, high cholesterol, obesity, hormone suppression, and cancer.
According to the GAO report, the DOD is in the beginning stages of cleaning PFAS contamination on, or near, 687 military installations. Last year, those efforts cost about $1.1 billion. However, the report indicates fiscal year 2021 PFAS remediation efforts will cost another $2.1 billion.
"These costs will likely increase significantly, because DOD is still in the early phases of its PFAS investigation. DOD officials also cited regulatory uncertainty at the federal and state levels as a significant challenge in estimating PFAS environmental restoration costs," the GAO report states. "However, DOD has not reported future PFAS cost estimates, or the scope and limitations of those estimates, in its annual environmental report to Congress."
The GAO indicates if DOD can and does report those estimates to Congress, it would ensure lawmakers are not broadsided by the increasing costs and efforts associated with PFAS investigation and cleanup operations at military bases nationwide.
Cleanup and remediation efforts cover a broad range of activities, including installing water treatment systems and even just providing bottled water to residents whose drinking water sources are now contaminated.
It is projected to take thousands of years for PFAS to degrade, and past studies have shown their ability to enter and stay in the environment and human body through the air, dust, food, soil, and water. Previous U.S. Centers for Disease Control and Prevention studies have shown PFAS chemicals primarily settle into the blood, kidney and liver, and could likely be detected in the blood of 98% of the U.S. population.
Chemical manufacturers now face a growing number of firefighting foam lawsuits brought by individuals nationwide, including former fire fighters diagnosed with cancer and individuals who lived near military bases or training facilities where chemicals from the toxic foam contaminated drinking water supplies. The companies may also face massive liability for PFAS cleanup costs associated with the contamination caused by the chemicals that they sold for decades.
"*" indicates required fields