Lawsuit Alleges Baby Powder and Shower-to-Shower Use Caused Ovarian Cancer
April 27, 2017
By: Irvin Jackson
Years of using Johnson & Johnson Baby Powder and Shower-to-Shower products resulted in ovarian cancer from talc exposure, according to allegations raised in a recent product liability lawsuit. 
The complaint (PDF) was filed by Jamie Engel in the U.S. District Court for the Eastern District of Arkansas on April 19, naming Johnson & Johnson and Imerys Talc America as Defendants.
Engel indicates that she used the talcum powder products in and around her vaginal area for feminine hygiene from about 1970 to 2014. She was diagnosed with ovarian cancer in April 2014, which she directly relates to talc contained in the baby and body powder. As a result of the talcum powder cancer, Engel has had to undergo a number of treatments, including exploratory laparotomy, oophorectomy, and a hysterectomy.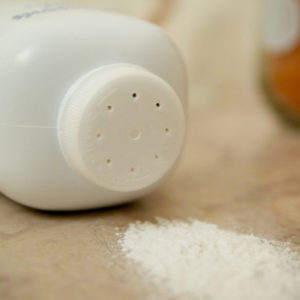 The case joins thousands of other Baby Powder lawsuits and Shower-to-Shower lawsuits filed in recent months by women battling ovarian cancer, and the family of women who have died, alleging that Johnson & Johnson knew or should have known about the cancer risks associated with talcum powder exposure, yet failed to warn consumers against placing the powder around the genitals.
Like many of the other claims, Engel indicates that Johnson & Johnson particularly targeted African American and Hispanic women with marketing of talcum powder, based on racist beliefs and fears about their hygiene, resulting in a high prevalence of talc-based ovarian cancer among those populations.
"Johnson & Johnson was also aware of the high rate of usage among African Americans (52%) and among Hispanics (37.6%)," the lawsuit states. "Despite its knowledge of the increased risk of ovarian cancer, Johnson & Johnson targeted these populations in its marketing efforts."
Last year, at least three bellwether talcum powder cases went to trial in Missouri state court, each resulting in multi-million dollar damage awards against Johnson & Johnson for failing to provide ovarian cancer warnings for women using talcum powder. A fourth case ended in the first defense verdict in favor of the manufacturer in March, with additional trials scheduled to begin in the coming months.
While there are at least 2,000 state court cases pending in Missouri, a growing number of complaints like Engel's continue to be filed throughout the federal court system, where coordinated pretrial proceedings were established in October 2016, centralizing the talcum powder litigation before U.S. District Judge Freda Wolfson in the District of New Jersey.
As part of the MDL proceedings, it is expected that Judge Wolfson will schedule a series of early bellwether trials, which are designed to help gauge how juries may respond to certain evidence and testimony that will be repeated throughout the cases.
Following the bellwether process, if the parties fail to reach talcum powder settlements or otherwise resolve the litigation, hundreds of individual trials may be set for trial in separate courts nationwide.
"*" indicates required fields