Breast Implant Lymphoma Diagnosed Two Years After Implants Removed, Case Study Warns
October 20, 2020
By: Irvin Jackson
A new case study raises additional concerns for women about the link between recalled breast implants and lymphoma, indicating that textured devices removed from the market in recent months may still cause the rare cancer to develop in the surrounding tissue up to two years after the breast implants have been removed.
In findings outlined in Poland's Nowotwory Journal of Oncology, researchers outline a case involving a woman diagnosed with breast implant-associated anaplastic large cell lymphoma (BIA-ALCL) two years after she underwent surgery to remove her breast implants, challenging the common wisdom that removing textured breast implants eliminates a woman's risk of developing the cancer.
Allergan was forced to issue a worldwide breast implant recall in July 2019, after its entire line of "Biocell" macrotextured products were linked to reports of lymphoma. The action was taken after the FDA released data last year, which indicated that nearly all of the 573 known cases of BIA-ALC worldwide were linked to the design.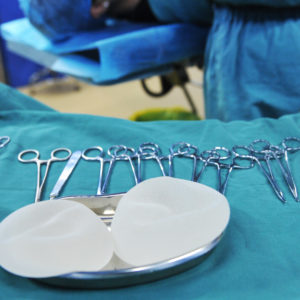 In a recent update, the FDA indicates it has identified an additional 160 new cases since July 7, 2019, as well as three new deaths. That brings the total cases to 733 BIA-ALCL diagnoses worldwide, and a total of 36 patient deaths globally.
In most cases, doctors have reported patients recovered from BIA-ALCL after the implants were removed, and breast implant removal is considered the first line of defense for women who previously received the Allergan Biocell implants. However, in this case report, doctors at the General and Oncological Surgery Clinic at Pomeranian Medical University in Szczecin, Poland, reported on an incident involving a 46-year-old patient who was diagnosed with BIA-ALCL even after her implants were removed.
"This is one of the first described cases of this disease in Poland," the doctors wrote. "Especially interesting is the fact that the lymphoma developed two years after the removal of the implants and the pathology occurred in the axillary lymph nodes."
The doctors compared their case to 29 other cases in medical literature, determining that the age range of females diagnosed with BIA-ALCL is between 27 to 87 years, and that the use of textured implants seems to be the most important risk factor.
The case report comes as Allergan faces a growing number of breast implant lymphoma lawsuits filed by women nationwide, alleging the manufacturer knew about problems associated with the design for years, yet failed to warn women, the medical community or federal regulators, continuing to promote the textured design as safe and effective.
There are currently at least 300 breast implant class action and product liability lawsuits filed in the federal court system, which have been consolidated for pretrial proceedings in New Jersey. However, as breast implant recall lawyers continue to review and file claims in the coming weeks and months, the size and scope of the litigation is expected to continue to grow.
Shara

October 26, 2020 at 12:55 am

My mother just had her implant removed
"*" indicates required fields