Tens Of Thousands Of Breast Implant Problems Reported Every Year, FDA Reveals
March 27, 2019
By: Irvin Jackson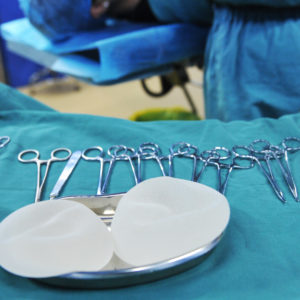 Despite growing concerns, the panel of FDA advisors decided against recommending any breast implant recalls, indicating that it was too early to determine whether the risks were limited to specific breast implant designs.
The meeting was a two-day public hearing of the FDA General and Plastic Surgery Devices Panel, which involved discussion about the risks and benefits of breast implants for both reconstruction and cosmetic augmentation.
According to the summary, the FDA has received more than 30,000 breast implant medical device reports (MDRs) every year since 2009. It saw the highest number of reports, about 50,000, in 2017. That number dropped to about 40,000 in 2018, which is still higher than every other year on record, except 2017.
On the risk of lymphoma linked to certain breast implants, the FDA notes that the American Society of Plastic Surgeons reports that there have been 673 worldwide cases of BIA-ALCL, with 16 related deaths, as of January 16, 2019. The FDA's MDR reports suggest 457 incidents and nine deaths. However, the agency admits in the report that using the MDR reports to determine the exact number of cases may be faulty.
"MDR is a method of passive surveillance, because it accepts reports, but does not actively interview every patient and manufacturer for information. Therefore, FDA cannot use MDR data to state with certainty how many patients have been diagnosed with BIA-ALCL," the report notes. "Secondly, it is impossible to determine what percentage of patients who have received a breast implant have been diagnosed with BIA-ALCL, because there is no definitive accounting of the total number of breast implants."
Assessing the prevalence of a group of health problems known as breast implant illness (BII) has been even more difficult, the FDA report notes. While some studies have suggested breast implant illness exists and are primarily rheumatologic conditions and connective tissue disorders linked to the use of silicone breast implants, the condition has not been confirmed, and the term is mostly used by breast implant patients and not the medical community.
This made even knowing what to look for in the agency's MDR reports difficult, the FDA notes. However, using a number of search terms commonly linked to breast implant illness, the FDA found 1,328 potentially related reports, split almost evenly between silicone and saline breast implants. The agency also found four deaths which may be linked to breast implant illness as well.
The top five reported symptoms included fatigue, brain fog, rash, joint paint, and memory loss. The FDA is also having all breast implant manufacturers conduct post-marketing studies to assess breast implant illness risks and veracity. Earlier this month it sent warning letters to Mentor and Sientra for falling behind on those studies or poorly executing them.
The two-day hearing covered information on BIA-ALCL and breast implant illness, as well as the potential for breast implant registries, on the first day. The second day focused on the use of surgical mesh in breast reconstruction and mastopexy, MRI screening of ruptures, and breast implant risk communication.
The panel was asked to make recommendations on characterizing BIA-ALCL and its risk factors, methods of assessing and addressing breast implant illness symptoms, to make MRI screening recommendations for some types of breast implant ruptures, and to discuss how to best assess the safety and effectiveness of using surgical mesh for breast reconstruction. The panel was also asked to discuss better ways of informing patients of breast implant risks and the potential use of breast implant registries.
The panel's recommendations are not binding on the FDA, however they are a crucial part of how the FDA sets new policies and regulations.
Beverly

March 28, 2019 at 9:57 pm

Thank you for having the meeting to listen to us suffering. There is no placebo effect when implants are removed, we actually FEEL better. I was on death's doorstep at 97 lbs a year ago and could not walk or have anything touch me I was in so much pain. I have had numerous health issues that are slowly getting better and some have disappeared. HAD I known I was in a 'Study' or 'Dropped' or had the[Show More]Thank you for having the meeting to listen to us suffering. There is no placebo effect when implants are removed, we actually FEEL better. I was on death's doorstep at 97 lbs a year ago and could not walk or have anything touch me I was in so much pain. I have had numerous health issues that are slowly getting better and some have disappeared. HAD I known I was in a 'Study' or 'Dropped' or had these types of illnesses I NEVER would have put them in. My suggestion is to test for the gene MTHFR, vitamin D deficiencies, family and patient health problems, a limit to 'redoing' breast for the amazing amount of contractures these cause (I had 2 types of implants and had grade 3-4). AND PLEASE SEND THIS OUT TO ALL GENERAL PRACTITIONERS, SPECIALISTS, ONCOLOGISTS, AND MAKE SURE PLASTIC SURGEONS GIVE US A WEEK TO ABSORB THIS MATERIAL AS SO MANY DOCTORS THINK WE ARE JUST CRAZY. How can SO many women who don't know each other have such similar symptoms? Reminds me of how 'safe' cigarettes were, or Vioxx. How many more of us are going to get sick (or stay sick from auto immune issues, ALCL) for you to LISTEN to us? Do your job and stop pandering to the big money makers. I am a young grandmother (just turned 60) and even though I explanted twice (Doctor left silicone in me) and I want to live a happy, normal life. Breast cancer was so much easier than this! Fight for the patient! I have to get checked for ALCL in two weeks and I am terrified as I had the textured implants (removed last year) because my breast just swelled up like a balloon and I am in horrible pain. They did not do the pathology right because there are no guidelines! This is not acceptable in this country!

Hope

March 27, 2019 at 10:11 pm

I had a saline rupture in 2012 and replaced with silicone. I have most of he symptoms of bii and am currently on disability due to these diagnosis. Fibromyalgia, joint pain, osteoarthritis, saliodentitis,swollen lymph nodes, lymph cysts, brain fog, interstitial cystitis, intractable pain, neurological issues, menopause at 43 yrs old which was within 30 days of the saline rupture

Deborah

March 27, 2019 at 8:38 pm

Thank you FDA for allowing patients like myself to continue to suffer. You can read my comment on the meeting here. https://www.regulations.gov/searchResults?rpp=25&po=0&s=1k3-990g-mboi&fp=true&ns=true
"*" indicates required fields