Breast Milk Benefits Over Formula At Preventing NEC For Premature Infants Highlighted in Another Study
January 14, 2022
By: Irvin Jackson
New research may have unlocked part of the mystery as to why breast milk is so much more effective than cow's milk-based infant formula at avoiding cases of necrotizing enterocolitis (NEC) among preterm infants.
Necrotizing enterocolitis (NEC) is a devastating disease that mostly impacts premature infants, where the wall of the intestine is invaded by bacteria, leading to destruction of the bowel and often requiring emergency surgery while the baby is still in the neonatal intensive care unit (NICU). This disorder occurs when the walls of the intestines are invaded by bacteria, leading destruction of the bowel and often requiring emergency surgery while a premature baby is still in the NICU.
In a report published late last month in the medical journal Biochemica et Biophysica Acta (BBA) – Molecular Basis of Disease, researchers from The Netherlands indicate that nutrients in breast milk help the intestinal epithelial layer mature in preterm infants. However, these nutrients are not present in cow's milk-based infant formula marketed for premature babies, such as the popular Similac and Enfamil product lines.
The findings help explain prior research which has found Similac and Enfamil formula cause NEC among pre-term babies at substantially greater rates than infants fed only a mother's breast milk or donor milk.
Versions of Similac and Enfamil have been specifically marketed for use among premature infants in recent years, which have been blamed for causing many otherwise preventable NEC cases by displacing human milk alternatives. As a result, health experts now widely recommend breast milk over formula whenever possible, and a growing number of Similac lawsuits and Enfamil lawsuits are now being pursued by families of babies who developed NEC, which are often fatal.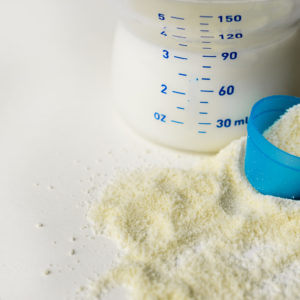 In this latest study, researchers with UMC Utrecht determined that preterm infants have an underdeveloped, or immature, intestinal epithelium which is key in allowing NEC to take root. Breast milk appears to contain nutrients which help regulate intestinal epithelial maturation, making NEC less likely, by increasing the mucus barrier and decreasing intestinal permeability.
"Strikingly, breast milk reduces the risk of developing NEC in preterm infants by 6–10 fold in contrast to formula-fed infants. It is thought that this is because the breast milk composition is specifically adapted to the preterm's needs, containing different levels of fat, carbohydrates such as lactose and protein, but also of the immunoglobulin IgA," the researchers wrote. "Unfortunately, not every preterm infant has the opportunity to receive breastfeeding. Formula lacks some of the unique components of breast milk essential for intestinal epithelial layer development, such as human milk oligosaccharides, and immune cells (macrophages, neutrophils and lymphocytes)."
The researchers noted that since breastfeeding is not always possible, baby formula manufacturers could make their products safer and more effective by finding a way to add these nutrients. However, the researchers also recommended more investigations into how to use the signaling pathways involved in intestinal epithelial layer maturation as a means of treating NEC in the future.
"*" indicates required fields