California Lawmakers Considering Ban on PFAS in Cosmetics
March 08, 2022
By: Irvin Jackson
California lawmakers are considering a ban on toxic chemicals known as per- and polyfluoroalkyl substances (PFAS) in cosmetics sold in that state; which could impact the cosmetics industry nationwide.
On February 18, California Assemblymember Laura Friedman, a Democrat from Glendale, introduced Assembly Bill 2771, which calls for a ban on the sale of cosmetics and personal care products which contain PFAS, often known as "forever chemicals" since they are known to persist and build up in the environment and human body.
PFAS were first introduced into the manufacturing industry in the 1940's, because of their ability to resist heat, grease, stains, and water. However, a growing body of research has identified a myriad of adverse health effects linked to exposure, including liver damage, thyroid disease, decreased fertility, high cholesterol, obesity, hormone suppression, and cancer.
While the chemicals are found in a wide variety of products, including cosmetics, some food packaging materials, pizza boxes, popcorn bags, fabrics, nonstick cooking pans, and other products, most of the concerns in recent years has focused on high volumes of the PFAS chemicals that entered U.S. drinking water supplies from aqueous film-forming foams (AFFF) widely used near airports, military bases and firefighting training centers in recent decades.
In recent years, a number of local communities have initiated water contamination lawsuits against chemical manufacturers responsible for the production of firefighting foam and PFAS chemicals, and hundreds of firefighter cancer lawsuits are also being pursued over health problems caused by direct contact to chemicals in the foam.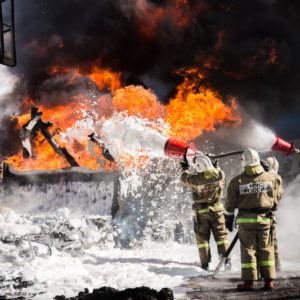 Increasing concerns are also now emerging about the widespread use of PFAS in cosmetic products, such as lotions, shaving cream, lipstick, eyeliner, cleaning products and mascara. The chemicals are used to improve the durability of the cosmetics and its ability to last on the skin, often making some cosmetics appear shinier. However, this could cause serious long-term health risks following prolonged exposure to the cosmetics on a routine basis.
In June, a study by researchers from the University of Notre Dame tested 231 cosmetic products, and found many contained high levels of PFAS; which are often not listed on the product labels.
The proposed California bill would not be the first PFAS ban, however. Two years ago, the state banned 13 PFAS compounds from personal care products. This new bill, however, would ban them all, defining PFAS as any fluorinated organic chemical containing at least one fully fluorinated carbon atom.
"I'm authoring this bill because Californians shouldn't have to worry that they're putting their health, or the health of their loved ones, at risk by doing something as routine as applying lotion, or wearing makeup," Friedman said in a press release by the Environmental Working Group, which supports the legislation. "Prohibiting the sale of personal care products that contain these forever chemicals is a critical step to reduce unnecessary exposure."
In addition to the Environmental Working Group, the bill is also being supported and endorsed by the California Public Interest Research Group (CALPIRG), and Breast Cancer Prevention Partners.
Six other states are weighing similar legislation, according to the press release, and last June U.S. Senator Susan Collins; a Republican from Maine, and Senator Richard Blumenthal, a Democrat from Connecticut, introduced the No PFAS in Cosmetics Act (PDF),  which calls for the FDA to propose a rule banning the presence of per- and polyfluoroalkyl substances (PFAS) in cosmetics nationwide.
However, California is the most populous state in the country, and its laws often echo across the country since manufacturers do not want to lose such a large, lucrative market and thus will change their products to comply with the states laws.
It is projected to take thousands of years for PFAS chemicals to degrade, and past studies have shown their ability to enter and stay in the environment and human body through the air, dust, food, soil, and water. Previous U.S. Centers for Disease Control and Prevention studies have shown PFAS chemicals primarily settle into the blood, kidney and liver, and could likely be detected in the blood of 98% of the U.S. population.
"*" indicates required fields