Lawmakers Move To Ban PFAS Use In Cosmetics After Study's Findings Raise Health Concerns
June 18, 2021
By: Irvin Jackson
Two U.S. Senators have introduced a bill to Congress which would ban the use of toxic PFAS chemicals in cosmetics, amid concerns about health risks associated with the "forever" chemicals that can build up in the body and environment.
U.S. Senator Susan Collins; a Republican from Maine, and Senator Richard Blumenthal, a Democrat from Connecticut, introduced the No PFAS in Cosmetics Act (PDF) on June 15, which calls for the FDA to propose a rule banning the presence of per- and polyfluoroalkyl substances (PFAS) in cosmetics within 270 days of the bill becoming a law; and a final rule within 90 days after that.
PFAS were first introduced into the manufacturing industry in the 1940's, because of their ability to resist heat, grease, stains, and water. However, since then the chemicals have been linked to a myriad of adverse health effects including liver damage, thyroid disease, decreased fertility, high cholesterol, obesity, hormone suppression, and cancer.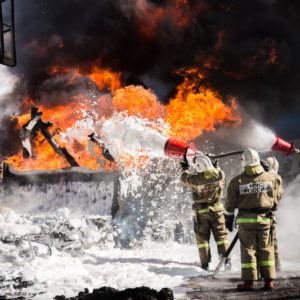 The chemical substances are used to manufacture a number of products, including some food packaging materials, pizza boxes, popcorn bags, fabrics, nonstick cooking pans, and other products.  However, it is perhaps most known for its use in firefighting foams used by military and civilian firefighters.
PFAS are added to cosmetics to increase durability and water resistance.
The proposed legislation was introduced on the same day a study was published in Environmental Science & Technology Letters, which warned of the high presence of PFAS in cosmetics sold in the U.S.
Researchers from the University of Notre Dame tested 231 cosmetic products purchased in the U.S. and Canada. The products most commonly containing high levels of PFAS included foundations, mascaras and lip products, according to the findings.
The study found that these products do not list the presence of PFAS in their ingredients.
"The manufacture, use, and disposal of cosmetics containing PFAS are all potential opportunities for health and ecosystem harm," the researchers determined. "Given their direct exposure routes into people, better regulation is needed to limit the widespread use of PFAS in cosmetics."
That regulation is what proponents of the new bill are attempting to push forward.
"This important legislation would purge poisonous PFAS chemicals lurking in makeup and cosmetics," Senator Blumenthal said in a press release. "Chemicals in cosmetics are currently almost completely unregulated, leaving many consumers and makeup wearers vulnerable to these toxic chemicals from everyday use of lipstick, mascara, and other products."
It is projected to take thousands of years for PFAS chemicals to degrade, and past studies have shown their ability to enter and stay in the environment and human body through the air, dust, food, soil, and water. Previous U.S. Centers for Disease Control and Prevention studies have shown PFAS chemicals primarily settle into the blood, kidney and liver, and could likely be detected in the blood of 98% of the U.S. population.
Most of the attention in recent years has been focused on the presence of PFAS in aqueous film-forming foams used by firefighters. Chemical manufacturers now face a growing number of firefighting foam lawsuits brought by nationwide, including individuals diagnosed with with cancer after exposure to the chemicals in their drinking water, as well as firefighters directly exposed during training and response exercises.
"*" indicates required fields