Enfamil and Similac Baby Formula Lawsuit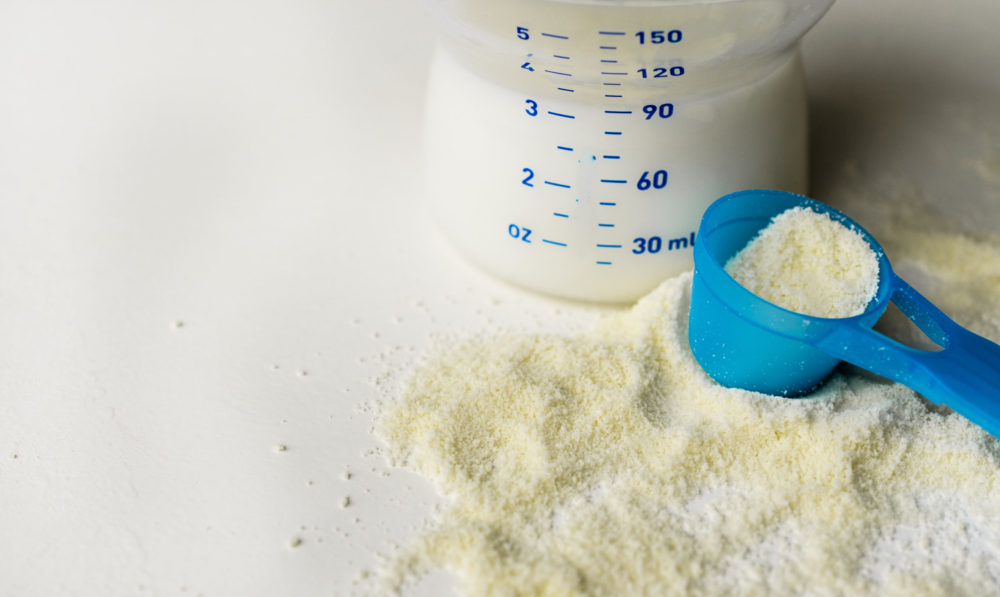 Similac Lawsuits and Enfamil Lawsuits are being pursued by families nationwide
Studies establish an increased risk of necrotizing enterocolitis (NEC) from Similac or Enfamil given to premature babies, compared to breast milk or other cow's milk formula given to preemies, compared to breast milk
Despite known risks, Similac and Enfamil baby formula were marketed for use among preemies in the NICU or hospital
Overview of Toxic Baby Formula NEC Lawsuits
Similac and Enfamil are two popular types of infant formula that have been marketed as safe and effective for premature babies. As a result, the baby formula is often fed to preemies or low birth weight infants in the NICU or hospital before discharge. However, cow's milk-based products like Enfamil and Similac have been linked to necrotizing enterocolitis (NEC) among premature infants, which can result in serious injuries, lifelong health complications and death.
Link Between Similac and Enfamil and NEC
A number of studies published over the past three decades have highlighted the link between NEC and Similac, Enfamil or other cow's milk formula fed to premature infants. However, false and misleading information has been provided to parents, hospitals and medical providers about the risks associated with baby formula and the benefits of breast milk.
Families are now pursuing Enfamil and Similac lawsuits in state and federal courts nationwide, alleging that the manufacturers placed their desire for profits before consumer safety. Free consultations and claim evaluations are provided to help determine if a family may be eligible for a baby formula NEC settlement, and there are no fees or expenses unless a recovery is obtained.
2022 Similac and Enfamil NEC Lawsuit Update: The Similac recall litigation has been centralized as part of an MDL before U.S. District Judge Matthew F. Kennelly in the Northern District of Illinois, where Abbott is already facing a number of necrotizing enterocolitis (NEC) lawsuits brought by parents of premature infants who developed a devastating gastrointestinal illness caused by cow's milk-based infant formula products. In September 2022, the judge appointed a group of 12 lawyers to serve in various leadership positions during the multidistrict litigation (MDL) proceedings.
In early October 2022, parties submitted a list of 66 claims which could serve as potential bellwether trials. That list will be whittled down to four cases which will serve as the first early test cases.
In November 2022, plaintiffs proposed a infant formula NEC bellwether trial schedule which would see the first case go before a jury in mid-2024.
In December 2022, as the first 12 Enfamil and Similac NEC lawsuits are being prepared for early trial dates to gauge how juries will respond, U.S. District Judge Rebecca R. Pallmeyer presiding over the federal MDL has ordered a series baby formula NEC settlement talks be held in October 2023, to explore a resolution for hundreds of similar claims being pursued by families nationwide.
Learn More About
Baby Formula Lawsuits
Status of Enfamil and Similac Baby Formula Lawsuits
Baby formula NEC lawsuits are being pursued against Abbott Laboratories (manufacturer of Similac) and Mead Johnson (manufacturer of Enfamil)
One of the earliest cases was a Similac necrotizing enterocolitis lawsuit filed in May 2021, by the parents of a premature baby born in April 2019, who died only 16 days later. The lawsuit alleges that Similac caused NEC, and that the manufacturer failed to adequately warn about the risk.
Many plaintiffs accuse the manufacturers of deceptive marketing, noting that they not only use coupons, free samples and misleading information to trick mothers into believing their infant formula products are safe, but also employ advertising campaigns which seek to dissuade criticism of the fact that their products are less safe than breast feeding despite scientific evidence supporting such criticisms.
In August 2021, a federal judge rejected an attempt by Abbott Laboratories to entirely dismiss a wrongful death lawsuit filed, certifying two questions to the Connecticut state Supreme Court that are relevant to the claims for failure to warn about the link between Similac and NEC.
On February 17, Abbott announced a recall of some Similac and other infant formula products manufactured at its' Sturgis, Michigan facility due to cronobacter and salmonella contamination linked to several infant illnesses and at least two child deaths. The company has already been hit by lawsuits and a senate inquiry over evidence it knew about the contamination months before the recall was announced.
The U.S. Judicial Panel on Multidistrict Litigation (JPML) is expected to hear oral arguments over whether all Similac and Enfamil NEC lawsuits should be consolidated before one judge for pretrial proceedings as part of an MDL, or multidstrict litigation in the coming months.
On April 8, 2022, the U.S. Judicial Panel on Multidistrict Litigation (JPML) issued an order (PDF) establishing a federal multidistrict litigation (MDL) for the NEC lawsuits over Similac and Enfamil, transferring all claims to U.S. District Judge Rebecca R. Pallmeyer in the Northern District of Illinois. Judge Pallmeyer is expected to call for a series of early "bellwether" trials designed to help gauge how juries are likely to respond to certain evidence that will be repeated throughout the litigation.
Enfamil and Similac NEC Risks
Necrotizing enterocolitis (NEC) is a serious health condition that may be caused by toxic baby formula, where an infant's intestinal tissues becomes inflamed. If left untreated, it can cause that tissue to die, resulting in perforations in the intestines, which allow bacteria to leak into the abdomen or infiltrate the bloodstream. This can lead to life-threatening infections, narrowing of the intestines, short bowel syndrome, developmental delays and a failure to thrive.
About 90% of NEC cases occur among babies born in the 37th week of pregnancy and about 1 out of every 1,000 premature infants may be effected. It is usually diagnosed through a blood test for bacterial infections, fecal tests looking for blood in the stool, or by x-rays revealing air bubbles in the abdomen or around the intestines.
Symptoms can include:
Abdominal pain
Abdominal swelling
Changes in heart rate, blood pressure, breathing and temperature
Bloody diarrhea
Green or yellow vomit
Inability to gain weight
Lack of appetite
Lethargy
Although numerous studies published in recent years have linked Similac and Enfamil to an increased risk of NEC, the manufacturers have failed to provide adequate warnings about the potential risk to infants, and in fact still promote their products as a preferred, premium formula for premature infants.
Some studies have indicated babies fed cow's milk formula exclusively are six to 10 times more likely to be diagnosed with NEC than infants given only breast milk.
Free Similac or Enfamil Lawsuit Evaluation
NEC lawyers provide free consultations and claim evaluations to help determine if financial compensation and settlement benefits may be available as a result of the manufacturers' failure to warn about the link between Similac, Enfamil and necrotizing enterocolitis.
Toxic baby formula Lawsuits are being investigated nationwide for parents of infants who were left severely injured, or who died, due to an NEC diagnosis after being fed Similac or Enfamil while hospitalized.
ENFAMIL OR SIMILAC NEC LAWYERS
All claims are handled on a contingency fee basis and there are no out-of-pocket expenses and no fees unless a recovery is obtained.
REVIEW A CASE
Andrea

December 11, 2022 at 2:25 pm

If Enfamil and simulation is for preemies then why was my son give it? He wasn't a premier. What the????

KEMIA

August 22, 2022 at 10:55 am

Both of My Daughters 1 born in 1997 and other in 2000,Similac and Enfamil. They had real issues with digesting there food as they grew older. Realizes they became latoose intolerant. They .when they were under the age of 5. Both of them would complain of stomach pains with constipation and at times diarrhea. The oldest girl would run to bathroom after eating all the time.she seems to. E always u[Show More]Both of My Daughters 1 born in 1997 and other in 2000,Similac and Enfamil. They had real issues with digesting there food as they grew older. Realizes they became latoose intolerant. They .when they were under the age of 5. Both of them would complain of stomach pains with constipation and at times diarrhea. The oldest girl would run to bathroom after eating all the time.she seems to. E always under weight when doing check ups both of them.shes now 25 she's 5'2 and weight is 108 pounds. She wares petite clothes. 2nd Daughter is 21 yrs old 5'1' she weighs like 105. This after having 2 babies . The eating habits now are haywire. They are both iron deficit and now Anemic. Just like Me there Mom... hmmmm wondering what Milk u was drinking in the 1980 growing up in California.

Ingrid

June 21, 2022 at 4:57 pm

Orion my 4th child born in 2013 10 months after his brother he cryed for ten months never seemed comfortable and never enjoyed his days I became postpartum due to not being to comfort him he stayed swollen in the stomach region and Dr summed it up to gas and acid reflux issues even when given the meds he still cryed... He cryed so often I called him crying Orion. Ten months into his life I decided[Show More]Orion my 4th child born in 2013 10 months after his brother he cryed for ten months never seemed comfortable and never enjoyed his days I became postpartum due to not being to comfort him he stayed swollen in the stomach region and Dr summed it up to gas and acid reflux issues even when given the meds he still cryed... He cryed so often I called him crying Orion. Ten months into his life I decided to indefinitely take him off of the numourous formula he switched threw it wasn't long 3 days nd Orion stopped crying he had a personality we finally got to see and he took off after this he finally got to play crawl and not long took to taking steps before this Orion just cryed and slept it was definitely no life for baby to be placed in such an uncomfortable position

Stephanie

May 24, 2022 at 8:21 pm

I have 5 children, and the first 3 who are now 10, 8, and 3, all have stomach issues. They throw up constantly for no reason. My last 2 are twins born in Oct 2020, one of them seems to not be growing as he should. I am very upset to hear about this because my children have suffered for years, and if it's because of the formula I was told to give them, then that's horrible!! How can these compani[Show More]I have 5 children, and the first 3 who are now 10, 8, and 3, all have stomach issues. They throw up constantly for no reason. My last 2 are twins born in Oct 2020, one of them seems to not be growing as he should. I am very upset to hear about this because my children have suffered for years, and if it's because of the formula I was told to give them, then that's horrible!! How can these companies be so evil!!!???

Heather

April 11, 2022 at 4:17 pm

I wonder what ages or years because both my boys were born in the mid 90's they have the worse stomach issues that I've ever heard of or seen. My 1st born is worse actually because ever since the day he was born he had such a hard time after giving Similac and Infamil.

Heather

April 11, 2022 at 4:15 pm

I wonder what ages or years because both my boys were born in the mid 90's they have the worse stomach issues that I've ever heard of or seen. My 1st born is worse actually because ever since the day he was born he had such a hard time after giving Similac and Infamil.

Tiffiney

April 6, 2022 at 10:26 pm

My son expired from NEC. How could a 5 week old bare that much pain and trauma. I blamed myself for years, maybe I should have pulled the cord, maybe I should have stayed with him that night a little longer. My son was due to come home in a couple weeks. The next time I saw him, when they called me to the NICU, he was so swollen, I was afraid to touch him because I thought he would burst open. All[Show More]My son expired from NEC. How could a 5 week old bare that much pain and trauma. I blamed myself for years, maybe I should have pulled the cord, maybe I should have stayed with him that night a little longer. My son was due to come home in a couple weeks. The next time I saw him, when they called me to the NICU, he was so swollen, I was afraid to touch him because I thought he would burst open. All the tubes, and the surgery, removing a large portion of his intestines. I have to stop myself from thinking about it because it hurts, and I felt powerless. I hurt for my little baby. Trying to be so strong. NOONE should have to go through so much pain.

Lourdes

March 27, 2022 at 2:04 pm

I wonder how long they can check on the gut damage that caused by taking similac baby milk ? 3 among the family children was taken same baby formula and now grown adults but suffering from gut issues such acidity flare ups and constipation and occasionally vomiting. One of those kids is my own daughter and kinda worried and make me think that it might be associate to the milk she take when she wa[Show More]I wonder how long they can check on the gut damage that caused by taking similac baby milk ? 3 among the family children was taken same baby formula and now grown adults but suffering from gut issues such acidity flare ups and constipation and occasionally vomiting. One of those kids is my own daughter and kinda worried and make me think that it might be associate to the milk she take when she was a baby. At times it was the most expensive and highly recommend baby formula. Being a single Mom, I struggle to get the best for y daughter but I have to do it since that's the only formula that was best recommend by the pediatrician.

Ronda

February 26, 2022 at 11:57 am

My baby was born November 14, 2006 and they told us several time that we couldn't hold him for several days but come to find out they told me that he had a hole in the inestines and that they needed to do a emergency surgery because of the hole in his stomach and that they needed to remove the damage intestine and try to treat infection but it was to late my son got the surgery and he didnt make[Show More]My baby was born November 14, 2006 and they told us several time that we couldn't hold him for several days but come to find out they told me that he had a hole in the inestines and that they needed to do a emergency surgery because of the hole in his stomach and that they needed to remove the damage intestine and try to treat infection but it was to late my son got the surgery and he didnt make it because of the infection that was in his stomach.

Shaima

February 19, 2022 at 3:19 am

Need answer

Tina

February 16, 2022 at 5:48 pm

I am so sorry for all the grief and loss here. The NICU refused to give my preemie formula and pushed donor milk for this exact reason. I believe somewhere in small print it says not for preemies on the cans. Answers are needed, tragic!

Eugene

November 30, 2021 at 2:53 am

In 2004 my son was born 1 pound 13 ounces he was in NICU for 4 months during this time he was given enfamil and was diagnosed with NEC he had to have 6 inches of his intestines removed ( because it died ) he went through multiple surgeries the result was devastating he is 17 now and is still having issues.

Stephanie

November 3, 2021 at 3:24 am

We lost our first due to NEC in 2006. He was born at 31 weeks and lived for 31days. The doctors and nurses kept blaming all his symptoms on him being a preemie and I asked for xrays of his stomach but I was told there wasn't any need.

Kaprice

October 27, 2021 at 10:47 am

Need answers

Barbara

October 1, 2021 at 3:40 am

My Dougher was on Enfamil and she got bed alerge for whole life and lot of health isue

Valkyrie

September 27, 2021 at 2:31 am

I almost lost my 4 month old son, due to a certain kind of enfamil.

Nellie

September 20, 2021 at 7:51 pm

My twins were born at 37 weeks, they have been in formula from 3 months - 18 months They both had eczema from age 6 months - 3 years. Now they both are allergic to nuts. I believe so it's due to formula Similac and Enfamil. I'm currently working on fixing their gut. I knew it's all because of formula and I told that to my Dermatologist. Unfortunately besides steroid creams they didn't offer anyt[Show More]My twins were born at 37 weeks, they have been in formula from 3 months - 18 months They both had eczema from age 6 months - 3 years. Now they both are allergic to nuts. I believe so it's due to formula Similac and Enfamil. I'm currently working on fixing their gut. I knew it's all because of formula and I told that to my Dermatologist. Unfortunately besides steroid creams they didn't offer anything else.

Jessica

September 18, 2021 at 4:03 pm

what year?

Sergio

September 16, 2021 at 2:16 am

My son suffered from all of the symptoms and he passed away shortly after
"*" indicates required fields