Baby Formula Lawyers Have Identified 66 NEC Lawsuits for Random Selection as Bellwether Claims Against Makers of Similac, Enfamil
October 05, 2022
By: Irvin Jackson
Parties involved in the federal litigation against the maker of Similac and Enfamil baby formula have 66 necrotizing enterocolitis (NEC) lawsuits, which will be eligible for a random selection process the Court will use to determine which claims will serve as the first bellwether trials.
Hundreds of families throughout the U.S. are now pursuing a Similac NEC lawsuit against Abbott Laboratories or Enfamil NEC lawsuit against Mead Johnson, each raising similar allegations that the companies marketed their cow's milk baby formula for use among premature infants without disclosing the risk that it may lead to a devastating and life-threatening gastrointestinal disease.
Similac and Enfamily have been promoted to hospitals, doctors and families of premature infants as a safe and effective alternative to breast milk, despite a growing body of research that has found that the cow's milk formula substantially increases the risk that preemies will develop NEC, which involves a painful destruction of the bowels that results in the need for emergency surgery while the baby is still in the NICU and often leads to death.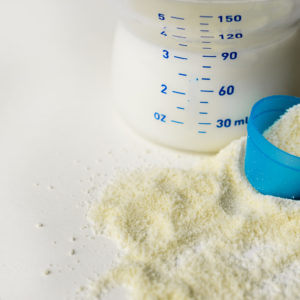 Given similar questions of fact and law raised in NEC lawsuits filed in various different U.S. District Courts nationwide, the U.S. Judicial Panel on Multidistrict Litigation (JPML) established coordinated management for cases earlier this year, centralizing the claims before U.S. District Judge Rebecca R. Pallmeyer in the Northern District of Illinois for centralized discovery and pretrial proceedings.
As part of the coordinated management of the litigation, Judge Pallmeyer has established a "bellwether" program, where a small group of NEC lawsuits will go through case-specific discovery and be scheduled for early trial dates, to help gauge how juries will respond to certain evidence and testimony that will be repeated throughout the litigation.
In August, parties presented a joint plan for selecting the baby formula NEC bellwether claims, indicating that a total of 12 lawsuits will go through case-specific discovery, including four selected by plaintiffs leadership attorneys, four selected by the makers of Enfamil and Similac, and another four randomly selected by the Court.
This week, the baby formula lawyers jointly submitted a list of 66 NEC cases (PDF) that will be eligible for the random selection process, including 36 cases that involve the use of Abbott Laboratories' Similac formula, and 30 cases that have been filed against Mead Johnson, the manufacturer of Enfamil.
Plaintiffs made their selection of four bellwether claims last month, and the Court will now use this submitted list to generate a random selection of four additional bellwether cases, including three filed against Abbott and one against Mead Johnson. The Defendants then have until November 23 to select the final four claims that will be eligible for the bellwether trial schedule.
October 2022 NEC Lawsuit Update
One the full list of 12 NEC bellwether lawsuits has been selected, the parties will conduct case-specific discovery, including depositions and the exchange of relevant documents in the cases. It is then expected that the discovery group will be reduced a total of four claims that will be eligible for the first trial, including two selected by Plaintiffs and two selected by Defendants.
Within 14 days of the close of fact discovery, the parties will submit their selections, together with a three-page submission that explains which of the cases they submitted should be tried first, and on what basis.
Judge Pallmeyer is then expected to set the NEC lawsuit bellwether trial schedule, determining the order in which the cases will go before juries starting every 12 weeks.
While the bellwether process moves forward, NEC baby formula lawyers are continuing to review and file new claims for families nationwide, and the size of the litigation is expected to continue to grow throughout 2023 and 2024. Following the four early trial dates, if the parties fail to negotiate NEC lawsuit payouts to settle claims, it is then likely that Judge Pallmeyer will start remanding dozens of individual claims back to U.S. District Courts nationwide for separate trial dates.
Latest NEC Lawsuit Information
Learn more about the latests status of the Similac and Enfamil NEC lawsuits, including criteria for claims that may be eligible for settlement benefits in the future.
2022 NEC Lawsuit Update
"*" indicates required fields