Study Highlights the Importance of Mother's Milk in Preventing NEC in Premature Infants
October 28, 2021
By: Irvin Jackson
Amid a growing number of premature baby NEC lawsuits being pursued against the makers of Similac and Enfamil, for failing to warn about the risks associated with their baby formula, new research highlights the importance of using a mother's milk following a preterm delivery, to reduce the risk of this serious and potentially deadly gastrointestinal condition.
In a report published this month in the medical journal Nutrients, researchers with the Washington University School of Medicine looked at the importance of breast milk, and how it differs from mother to mother, in preventing infant diseases such as necrotizing enterocolitis (NEC).
While researchers found that metabolic differences in breast milk led to different levels of protection for preterm infants from NEC, the findings add to the growing evidence that it plays an important protective role.
Necrotizing enterocolitis is a devastating disease that mostly impacts premature infants, where the wall of the intestine is invaded by bacteria, leading destruction of the bowel and often requiring emergency surgery while the baby is still in the NICU.
Although cow's milk infant formula products like Similac and Enfamil have been aggressively marketed for preemies in recent years, mounting research has found that the formula may increase the risk of a premature baby NEC diagnosis for preemies, and health experts widely recommend breast milk instead of formula whenever possible.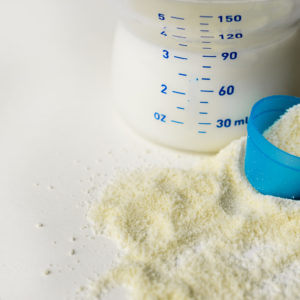 In this latest study, researchers took samples of breast milk from 48 new mothers at the St. Louis Children's Hospital neonatal intensive care unit (NICU) between August 2017 and November 2020, matching samples from mothers with children diagnosed with NEC with those whose children did not have the condition. They then conducted a metabolic analysis of the samples, looking for key differences.
While the researchers found minimal differences overall, they did determine that key nutrients such as lipids and fatty acid levels did have an impact on neonatal growth and intestinal development. However, the researchers upheld previous findings about the overall importance of breast milk in preventing NEC.
"Human milk is the gold standard for nutritional support for growth and development during infancy, and the complex composition of human milk encompasses macronutrients, micronutrients, antimicrobial and bioactive factors," the researchers wrote. "These antimicrobial and bioactive factors have multipurpose properties, including established protective roles against the development of neonatal disorders such as NEC."
The researchers called for more investigation into the complexities and composition of mother's milk, concluding that some differences in milk composition affected birth weight, if not the risk of NEC overall.
Lawsuits Over Failure to Disclose NEC Baby Formula Risks
Abbott Laboratories and Mead Johnson now face dozens of premature baby Similac NEC lawsuits and Enfamil NEC lawsuits, each raising similar allegations that false and misleading information was provided to doctors, hospitals and consumers about the risks associated with the cow's milk products, especially among preterm babies.
Lawsuits allege that the makers of Similac and Enfamil knew or should have known about the increased risk of NEC for premature infants, yet continued to market and distribute the products without adequate warnings. As recently as 2016, Abbott advertised some Similac formulas as being specifically for premature and low birth-weight infants, the lawsuits note, despite the known dangers.
The families also claim the use of these formulas has displaced breast milk that infants would have otherwise received, robbing them of a primary defense against NEC, since studies have shown breast milk can serve as a protective measure.
NEC Premature Baby Lawsuit
Settlement benefits may be available from the makers of Similac and Enfamil for failing to warn about the risk of NEC among premature infants.
Contact A Lawyer
"*" indicates required fields