Baby Formula NEC Lawsuit Filed Against Makers of Similac, Enfamil
September 15, 2021
By: Irvin Jackson
A Louisiana woman and her mother have filed a product liability lawsuit alleging Similac and Enfamil formula caused NEC (necrotizing enterocolitis), a severe intestinal disorder which required emergency surgery shortly after birth, and resulted in life-long injuries.
The complaint (PDF) was brought late last month by Alicia Wyrick and her mother, Larhonda Turner, in the Illinois Circuit Court for Madison County, pursuing damages from Mead Johnson and Abbott Laboratories for complications caused by use of their popular cow's milk-based formula among premature infants.
NEC is a devastating injury that may develop among babies, resulting in inflammation and necrosis of intestinal tissue. It primarily occurs among premature infants, and often leads to emergency surgery or death.
NEC From Enfamil or Similac Formula
Was your premature baby diagnosed with NEC after being fed Enfamil or Similac formula?
Contact A Lawyer
Over the last decade, a number of studies have found using cow's milk baby formula like Similac or Enfamil may increase the risk of NEC in preterm infants, leading a growing number of health experts now recommending premature babies only receive the mother's breast milk, donor breast milk or certain breast-milk based formulas.
Wyrick was born prematurely in Seattle, Washington in August 2001, and indicates she was fed Similac and Enfamil shortly after her birth. Soon after she first ingested the cow's milk formula, Wyrick developed NEC and required surgery which left her with long-lasting health effects, according claims raised in the lawsuit.
The lawsuit points out that NEC has been linked to formula being fed to preterm infants since at least 1990, at which point a study indicated feeding them formula exclusively increased the risk of the ailment by up to a factor of 10, when compared to those given breast milk alone. A number of similar studies have followed through the years, and in 2012 the American Academy of Pediatrics warned that all premature infants should be fed human breast milk exclusively.
According to the complaint, the manufacturers failed to adequately warn about the link between Similac and Enfamil and necrotizing enterocolitis (NEC), with safety warnings only indicating that very low-birth-weight infants were susceptible to "gastrointestinal complications" when fed the formulas.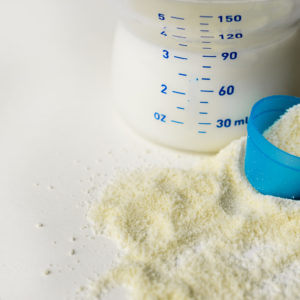 "Preterm and low-birth-weight infants are especially susceptible to NEC because of their underdeveloped digestive systems," the lawsuit states. "Extensive scientific research, including numerous randomized controlled trials, has confirmed that cow's milk-based feeding products cause NEC in preterm and low-birth-weight infants, which in turn may lead to other medical complications, surgeries, long-term health problems, and death."
Wyrick and Turner join a growing number of other families now pursuing a Similac NEC lawsuit or Enfamil NEC lawsuit against Abbott and Mead Johnson, alleging that the companies knew or should have known that their baby formula and fortifiers were unreasonably dangerous for premature babies, yet continued to sell and distribute the products without providing adequate warnings to parents, hospitals and medical providers.
The lawsuits also claim the use of these formulas has displaced breast milk that infants would have otherwise received, robbing them of a primary defense against NEC, since studies have shown breast milk can serve as a protective measure.
As recently as 2016, Abbott advertised some Similac formulas as being specifically for premature and low birth-weight infants, the lawsuit notes, despite the known dangers.
In 2018, CVS issued an Enfamil recall impacting all lots of powder baby formula after a child became severely sick after ingesting the formula, which was believed to have been damaged during the manufacturing process or tampered with.
Vanessa

September 28, 2021 at 6:25 pm

My granddaughter is on netsuke 22 and she has hiccups and gassy and fussy all the time
"*" indicates required fields