CVS Recalls Enfamil Baby Formula Due To Potential Manufacturing Defect or Tampering
August 31, 2018
By: Russell Maas
Enfamil powder baby formula has been removed from all CVS store shelves across the nation, after a recent report indicated the protective seal one package's lid was not intact, indicating that it may have been damaged during the manufacturing process or tampered with. 
A number of media reports indicate that CVS Pharmacy recalled all Enfamil baby formula following the report from a Florida customer, who indicated a tub of formula had a tampered seal and the product smelled like baking flour.
Local new sources reported Alison Denning purchased the Enfamil formula from a CVS Pharmacy in Oldsmar, Florida. Denning claims the container's exterior protective seal did not appear to be tampered with, however when she opened the tub, the bagged formula's seal was broken.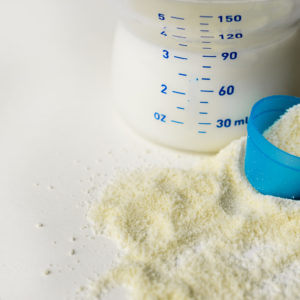 Denning reports the formula smelled similar to baking flour and reported her concerns to CVS and Mead Johnson, the manufacturer of Enfamil products. The manufacturer overnighted a shipping box to Denning so the suspected powder could be tested.
After receiving the report, CVS chains across the nation were ordered to remove all Enfamil products from store shelves, and local authorities in Oldsmar, Florida were contacted to open an investigation to see if the products had been tampered with by customers.
CVS Pharmacy released a statement apologizing to its patrons and informing them the popular Enfamil powder would be temporarily unavailable in their stores until an internal review and investigation concluded the products were safe.
At this time, CVS Pharmacy and Enfamil believe this to be an isolated incident that could be the result of tampering. However, the possibility of a manufacturing defect that could have broken the seal of the Enfamil bag has not been ruled out.
This is not the first report of Enfamil product seals being tampered with in stores, as just last year an Arizona mother, Chelsea Bellinger, reported her baby girl became sick after drinking what she believed to be baking flour placed in a tampered container of Enfamil AR. She was taken to the hospital after continuously crying and vomiting after drinking the formula according to the report.
Shortly after, a 30 year old woman from Tucson, Arizona was charged by local authorities after finding she was purchasing Enfamil products and taking them home and replacing the formula with flour and returning them to stores for a full refund, leaving the next consumer's child to ingest baking flour.
Local Tucson Police issued a statement for parents to be vigilant and cautious of the ongoing scam in which contents of the containers at several Tucson stores were replaced with flour and other substances.
---
Similac and Enfamil Lawsuits Over Injuries for Premature Babies
Following years of concerns that cows milk baby formula causes NEC for premature infants at rates far greater than breast milk, a number of families nationwide are now pursuing an Enfamil lawsuit or Similac lawsuit alleging that inadequate warnings were provided for parents, doctors and hospitals.
Find out if your family has a case
Settlement benefits may be available for families of premature babies who developed necrotizing enterocolitis.
Contact A Lawyer
"*" indicates required fields