Similac Necrotizing Enterocolitis (NEC) Lawsuit Allowed To Proceed, With Certification Of Certain Claims to Conn. Surpeme Court
August 23, 2021
By: Irvin Jackson
A federal judge has rejected an attempt by Abbott Laboratories to entirely dismiss a wrongful death lawsuit brought by the family of an infant that allegedly developed necrotizing enterocolitis (NEC) from Similac baby formula used in a hospital NICU, allowing certain claims to move forward and certifying other questions of law to the Connecticut Supreme Court.
The original complaint (PDF) was brought by the family of Aries Peterson in the U.S. District Court for the Northern District of Connecticut in October 2020, presenting claims against Abbott for failure to warn, design defects, negligence, negligent misrepresentation, breach of express warranty, intentional misrepresentation, violations of the Connecticut Unfair Trade Practices Act (CUTPA) and loss of filial consortium under common law.
Peterson was born prematurely and died after spending his entire three-month life in the neonatal intensive care unit (NICU) at Yale New Haven Hospital, in Connecticut. According to the family, the child died in April 2018, after developing NEC from Similac Neosure, Similac Human Milk Fortifier and Similac Special Care fed while hospitalized, each of which are cow's milk-based products.
Similac Neosure NEC Lawsuit
Find out if your family has a claim for NEC caused by Neosure or another Similac formula fed to your premature baby.
Contact A Lawyer
Necrotizing enterocolitis (NEC) is a severe intestinal disorder among infants, which results in inflammation and necrosis of intestinal tissue. It primarily occurs among premature infants, and often results in death or devastating injuries.
Over the last decade, a number of studies have indicated that use of cow's milk baby formula like Similac and Enfamil may increase the risk of NEC in preterm infants. This has lead to a growing number of health experts recommending that premature babies only receive the mother's breast milk, donor breast milk or certain breast-milk based formulas.
Abbott Laboratories and Mead Johnson now face a growing number of Similac and Enfamil NEC lawsuits, alleging that they knew their products were unreasonably dangerous for premature babies, yet continued to sell and distribute the cow's milk formula without providing adequate warnings to parents, hospitals and medical providers.
In response to the complaint filed by the family of Aries Peterson, Abbott filed a motion to dismiss the complaint nearly in its entirety, and also asked the Court to strike allegations that it maintained were scandalous and inflammatory.
In a 41-page opinion (PDF) issued on August 19, U.S. District Judge Stefan Underhill did agree to dismiss certain claims for negligent misrepresentation, intentional misrepresentation, breach of express warranty and violations of the CUTPA. However, the court allowed other claims to survive, including state law theories of failure to warn, design defect and negligence, as well as the parent's claims for loss of filial consortium.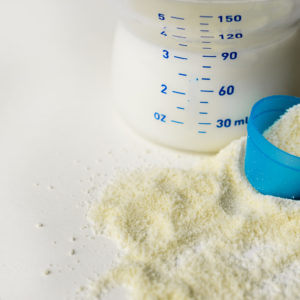 In response to Abbott's request to strike certain paragraphs from the complaint which asserted the company sought to profit by intentionally harming infants, plaintiffs' argued that the allegations were substantive and relevant to Abbott's potential recklessness. The Court denied that motion to strike, because "the allegations that Abbott argues are scandalous are really not."
Judge Underhill did indicate two questions of state law on those remaining claims will be certified to the Connecticut Supreme Court, including questions about whether the learned intermediary doctrine applies to the state law failure to warn theory and whether Connecticut law recognizes a cause of action for filial consortium, involving a parents claim for loss of a child's affection, love and companionship.
The parties have been directed to file either a stipulated statement of facts for the certification that will be filed to the Connecticut Supreme Court, or a written notice that they can not agree on such a stipulated statement, by September 20, 2021.
"*" indicates required fields