FDA Received Nearly 4,000 Ovarian Cancer Reports Linked To Cosmetics: Study
July 03, 2018
By: Irvin Jackson
New research suggests that federal regulators have received nearly 4,000 reports of ovarian cancer linked to cosmetics in recent years, likely spurred by an increased awareness following a number of high profile lawsuits over Johnson's Baby Powder and similar talcum powder products, which have resulted in several multi-million dollar jury awards for women with ovarian cancer. 
The study was published late last month in the medical journal JNCI Cancer Spectrum, highlighting both how the FDA's adverse event reporting system can be used to detect potential health problems linked to products, and also noting how the system hampered by the incompleteness of those reports.
Researchers from the Northwestern University Feinberg School of Medicine looked at the FDA Center for Food Safety and Applied Nutrition's Adverse Event Reporting System (CAERS) for cancer-related reports linked to cosmetics from 2004 through 2017. According to their findings, reports of cancer were associated with 41% of all adverse events linked to cosmetics.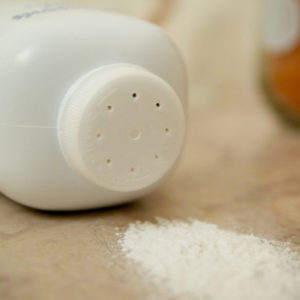 The study identified 4,427 individual reports of cancer related to a cosmetic product. However, 95% of those reports had the product names redacted.
Among the redacted reports, 90% (3,992 reports), were associated with ovarian cancer. The next highest was mesothelioma, which was linked to 2% of the reports, or 92 cases. When the researchers looked at the non-redacted reports where the product name was visible, 70% were related to ovarian cancer linked to the use of talcum powder products.
Researchers note that reports with names blocked out were probably due to ongoing legal proceedings, meaning they most likely involved talcum powder as well.
Among the non-redacted reports, topical moisturizers were involved in 10.5% of the complaints, involving cases of skin cancer, breast cancer and bone lesions, according to the findings.
"Currently, CAERS is of limited utility, with the available data having been subjected to significant reporter bias and a lack of supportive information such as demographic data, medical history, or concomitant product use," the researchers warned. "Although the system has promise for safeguarding public health, the future utility of the database requires broader reporting participation and more complete reporting, paired with parallel investments in regulatory science and improved molecular methods."
Talcum Powder Ovarian Cancer Litigation
The findings come as thousands of women nationwide are pursuing Johnson's Baby Powder lawsuits and Shower-to-Shower lawsuits over the development of ovarian cancer associated with applying the talc powder around the genitals.
Several state court trials in recent years have resulted in multi-million dollar damage awards over failure to warn about the risks associated with use of talcum powder by adult women for "feminine hygiene".
The lawsuits allege that talc particles may migrate through the vagina to the ovaries, resulting in the development of ovarian cancer following years of exposure. According to evidence introduced in prior trials, Johnson & Johnson has known about these risks associated with their baby powder for decades, yet continued to market talcum powder to adult women and introduced Shower-to-Shower powder for that specific market.
While Johnson & Johnson is pursuing appeals in each of the cases that resulted in a verdict, and is refusing to negotiate talcum powder settlements, some analysts suggest that the recent verdicts may be a sign of future problems for the manufacturer, due to signs that juries find Johnson & Johnson's trial defense lacking in credibility.
"*" indicates required fields