Philips CPAP Machine Waiting List Provides No Estimate For How Long Replacement May Take
August 20, 2021
By: Irvin Jackson
After a massive Philips CPAP machine recall left millions of individuals with sleep apnea without a safe device to use at night, since the existing machines may release toxic and cancer-causing chemicals directly into the air pathways, the manufacturer is now placing customers with recalled CPAP machines on a waiting list without any clear indication about how long it will take to receive a replacement.
An estimated 3.5 million Philips Respironics DreamStation, CPAP, BiPAP and mechanical ventilators were recalled in June, due to a risk that defective sound abatement foam used in the machines may degrade and release black particles or toxic chemicals in the lungs of users who rely on the machines for treatment of sleep apnea or other conditions.
Exposure to the toxic particles and gases released by a polyester-based polyurethane (PE-PUR) foam inside has been linked to reports of cancer, severe respiratory problems and other health complications, according to allegations raised in a growing number of Philips CPAP machine lawsuits and class action claims filed in courts nationwide in recent weeks.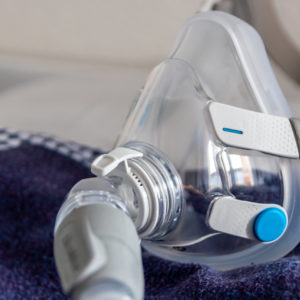 Philips CPAP Recall Lawsuit
Due to concerns about the serious health risks posed by the machines, the FDA issued a safety communication on June 30, urging people who use the machines for treatment of sleep apnea to immediately stop using their device and contact their healthcare providers for a suitable treatment alternative or replacement CPAP machine. However, supplies from other manufacturers have not been available and many users have been left without the much-needed sleep apnea therapy, placing them at risk of other health problems.
A report published this week by the New York Times highlights the difficulty consumers are facing. Many have been told they are being placed on a Philips CPAP machine waiting list, but no information or indication has been provided about when replacement devices will be available.
Some users have reportedly been told Philips will prioritize patients with "more advanced clinical needs," but no information about that criteria or process has been provided by the manufacturer, leaving worried consumers with many more questions than answers.
A growing number of Philips CPAP machine lawsuits are now being filed by individuals nationwide, including both class action claims that seek reimbursements for the costs of purchasing CPAP machine replacements and medical monitoring, as well as personal injury claims brought by users who have already been diagnosed with cancer, lung damage or other ailments allegedly caused by exposure to the toxic particles.
The Dutch manufacturer, Koninklijke Philips, N.V. generated over $23 billion in revenue last year, and is expected to face massive liability over the next few years from CPAP machine settlements that may be reached to resolve consumer lawsuits. However, it now also faces investor lawsuits that brought over alleged violations of federal securities rules.
On August 16, an investor, Subhash Patel, filed a complaint (PDF) seeking class action status for investors, who say the company misled them about the value of the company before the recall was announced. The lawsuit was filed in the U.S. District Court for the Eastern District of New York, seeking damages for anyone who purchased or otherwise acquired securities in Philips between February 25, 2020 and June 11, 2021.
"Throughout the Class Period, Defendants made materially false and misleading statements regarding the Company's business, operations, and compliance policies," Patel's lawsuit states. "Specifically, Defendants made false and/or misleading statements and/or failed to disclose that: (i) Philips had deficient product manufacturing controls or procedures; (ii) as a result, the Company's Bi-Level PAP and CPAP devices and mechanical ventilators were manufactured using hazardous materials; (iii) accordingly, the Company's sales revenues from the foregoing products were unsustainable; (iv) the foregoing also subjected the Company to a substantial risk of a product recall, in addition to potential legal and/or regulatory action; and (v) as a result, the Company's public statements were materially false and misleading at all relevant times."
Following the recall, the company's stock price has fallen $2.25 per share, according to the lawsuit; a loss of 3.98%.
Cynthia

November 12, 2021 at 11:40 pm

I am 54 years old and have been using my CPAP machine for the last 3 to 4 years. I have been told I have central sleep apnea, and I'm worried about the danger to my heart the lack of oxygen will cause. I have a 13-year-old child, and do not want to shorten my life because of a recalled CPAP machine. However I am also concerned about the dangers of using it. I would like my comment shared with a la[Show More]I am 54 years old and have been using my CPAP machine for the last 3 to 4 years. I have been told I have central sleep apnea, and I'm worried about the danger to my heart the lack of oxygen will cause. I have a 13-year-old child, and do not want to shorten my life because of a recalled CPAP machine. However I am also concerned about the dangers of using it. I would like my comment shared with a lawyer and I'm open to joining a lawsuit. I'm an RN and know the dangers of not using my machine.

Joann

November 2, 2021 at 4:03 pm

I use one of the recalled Phillips machines. I registered the serial number, as directed. I cannot discontinue use! During my testing apnea, I stopped breathing about 110 times an hour. If I even take a nap without my CPAP, it makes me mentally confused and physically ill when I wake up. I was not notified by the manufacture. I do not watch TV often. I only found out today, 10/2/21. After readin[Show More]I use one of the recalled Phillips machines. I registered the serial number, as directed. I cannot discontinue use! During my testing apnea, I stopped breathing about 110 times an hour. If I even take a nap without my CPAP, it makes me mentally confused and physically ill when I wake up. I was not notified by the manufacture. I do not watch TV often. I only found out today, 10/2/21. After reading about this, my nausea and unexplained headaches make since, as does sinus my sinus issues. A wait list is not acceptable. Even though it is not life-sustaining in their opinion…it is critical to sustaining my life. I cannot function without a CPAP
"*" indicates required fields