CPSC Warns 160 Children Die Every Year from Nursery Product Accidents
September 29, 2023
By: Katherine McDaniel
A new report released by federal safety officials highlights serious risks associated with various nursery products, which continue to cause hundreds of child injuries and deaths every year.
The U.S. Consumer Product Safety Commission (CPSC) released its annual nursery products report on September 21, revealing that various unsafe products and sleep environments continue to pose serious risks for children under five years old, despite recent regulations and bans of certain products, which were intended to reduce the risk of such deaths and injuries.
According to the CPSC, most infant deaths involving nursery products are preventable, and could be avoided if parents and caregivers had known to place their baby in a safer product or different sleeping environments.
Nursing-Product Related Infant Deaths
The report indicates that approximately 59,500 children under five years old were injured by a nursery product in 2022, and about 490 died between 2018 and 2020. Although officials have issued tighter regulations on nursery products in recent years and recently banned inclined sleepers and crib bumpers, they still contribute to an average of 163 child deaths per year.
Officials indicate that high chairs, cribs, infant carriers, and strollers were associated with approximately 63% of the injuries reported in 2022, while cribs, mattresses, playpens, play years, bassinets, cradles, infant carriers, and inclined sleep products were linked to 77% of the fatalities reported.
The CPSC revealed that falls were the most common cause of injury, followed by internal organ injuries, contusions, abrasions, and lacerations. The most common causes of death included strangulation, positional asphyxiation, and drowning.
Cribs and mattresses accounted for approximately 128 child deaths between 2018 and 2020, with 70% involving a cluttered sleep environment and 9% associated with the crib, mattress, or crib surroundings.
Approximately 89 deaths were linked to bassinets and cradles, 81 deaths were associated with play yards, 46 deaths occurred from inclined infant sleep products, and infant carriers caused 35 deaths between 2018 and 2020.
The CPSC report also found that in some cases, the child's death was due to hazards in their sleeping environment, rather than from an unsafe product itself. Some deaths were linked to hazardous materials in or near the product, including bedding inside the crib, objects like plastic bags near the sleeping area, or objects in reach of the child, such as window blind cords and electrical outlets.
CPSC Bans Inclined Infant Sleepers and Crib Bumpers
Following the enactment of the Safe Sleep for Babies Act in May 2022, which was passed to address the safety risks associated with millions of sleep products, the CPSC banned inclined sleepers and crib bumpers this year.
The new rule, which impacts any infant sleep product manufactured on or after June 23, 2003, bans inclined sleepers intended for infants under five months old. The rule defined inclined sleeping products as any product with an elevation of more than ten degrees that is intended, marketed, or designed to be used for sleeping. Crib bumpers were defined as any product with fabric or material that could potentially cover or block access to the crib openings.
Officials have also implemented other rules designed to improve the safety of infant sleep products, including establishing new standards for crib mattresses and infant sleep products, which took effect in 2022. They also issued revised rules for infant swings, carriages, strollers, high chairs, changing products, bath tubs, slings, and bouncer seats in 2022, and issued revised rules for infant gates, enclosures, walkers, and bedside sleepers in 2023.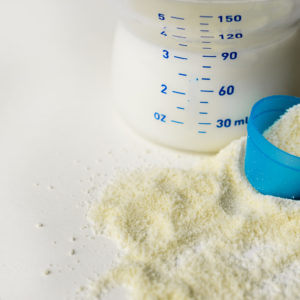 Sleeping Safety Recommendations
The CPSC urges parents and caregivers to check their child's sleeping environments during "Baby Safety Month" observed in September, and recommend the following:
Ensure the child is placed on their back in a product that is safe for sleep, including a bassinet, crib, or play yard.
The safest sleeping environment for a baby is on firm, flat surface, and the area should not have any bedding, including blankets, pillows, or any other items in or near the child's sleeping area.
Move a child that has fallen asleep on an inclined product or in an included position greater than 10 degrees to a flat crib, bassinet, or play yard.
Only use products intended for sleep that meet federal requirements.
Visit https://www.saferproducts.gov to check for product recalls, or visit CPSC.gov to sign up for recall notifications.
Consumers may also visit the CPSC's Safe Sleep and Crib Safety Education Center for more baby safety tips, information on recalled products, and public service announcements.
"*" indicates required fields