da Vinci Robot Marketing Claims Often Not Supported or Complete: Study
July 23, 2012
By: Austin Kirk
New research suggests that many hospitals are heavily promoting robotic surgery with the da Vinci Surgical System, making claims about the new technology that are often not based on high-quality data, and that fail to discuss potential risks associated with da Vinci robot surgery or alternative procedures that may be available.
In a study published online earlier this month by the American Journal of Obstetrics & Gynecology, researchers at Columbia University analyzed the content, quality and accuracy of information provided on hospital websites about da Vinci robotic gynecologic surgery.
The da Vinci robot is a complex machine that features four remote controlled arms and a camera, allowing surgeons to operate through a small incision with a joystick-like control.  The device is promoted as a breakthrough device, allowing for less invasive surgery and shorter recovery times.  However, a growing number of Da Vinci robotic surgery lawsuits filed against the manufacturer, Intuitive Surgical, Inc. allege that it is sold without adequate warnings about the risk of complications and without providing sufficient training and instructions for surgeons.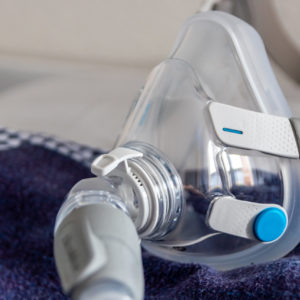 Did You Know?
Millions of Philips CPAP Machines Recalled
Philips DreamStation, CPAP and BiPAP machines sold in recent years may pose a risk of cancer, lung damage and other injuries.
Learn More
According to the study, which analyzed the websites of 432 hospitals with more than 200 beds, researchers found that 44.4% of the hospitals promoted robotic gynecologic surgery, but only 3.7% of those websites discussed costs of the robot surgery, 1.6% discussed complications and 3.7% mentioned the increased operative time associated with the procedures.
In addition to failing to provide the complete information patients may need to make an informed decision, many allowed Intuitive Surgical to essentially use their websites for their sales pitch, with 64.1% using stock images and 24% using stock text provided by the manufacturer of the da Vinci robot, instead of describing the pros and cons in their own words.
The study concluded that a large amount of hospital internet advertising for the da Vinci was not based on high-quality data and failed to present alternative procedures.
da Vinci Robotic Surgery Promoted Without Disclosure of Risks
At an estimated cost of about $2 million each, with annual maintenance expenses of $140,000 per year and replacement parts for each procedure that range from $1500 to $2000, many hospitals that aquire the da Vinci Surgical System face substantial pressure to push the use of robotic surgery over alternative surgical methods.
According to allegations raised in several product liability lawsuits filed against Intuitive Surgical, Inc., the manufacturer has engaged in a practice of selling the robot by making hospitals feel that they will be at a competitive disadvantage if they do not offer robotic surgery. The company then provides minimal training to surgeons, even though some reports suggest that it takes 200 or more robotic surgeries to become proficient with the da Vinci System.
Although brochures, websites and other marketing information provided by hospitals push the benefits of the surgery, which allow for a smaller incision and quicker recovery times, consumers are provided little, if any, information about the risk of serious and potentially life-threatening complications from da Vinci surgery.
A growing number of da Vinci lawsuits filed throughout the country outline severe problems individuals have experienced following robotic surgery with da Vinci, where the machine may cause burns, tears and other internal injuries.
Complaints allege that robot features design defects, which may allow the monopolar energy used to cut, burn and cauterize tissue to jump outside of the surgical field, causing damage to surrounding organs, vessels or tissue. In many cases, surgeons are not even aware of these problems and patients are sent home after surgery only to discover the severe and life-threatening complications days later.
According to an earnings report released by Intuitive Surgical last week, the company saw second-quarter profits rise 32% over last year, amid an increasing number of da Vinci robot surgeries and system sales. Approximately 150 da Vinci machines were sold last quarter, and the company reported a 26% increase in procedures.
Sid

May 17, 2016 at 5:58 am

I had a Hysterectomy with the Da Vinci Robot 8/24/11 in Woodlands, Texas by Dr. G. Ease. At the age of 57. I was walking around the block in a week. And ridding my bike 13 miles in to weeks. I have had no problems. Best surgery. I'm now 62. My Husband & I have a Great Sex life. And I'm in excellent health. FYI; I also take no medication.
"*" indicates required fields