Daily Talcum Powder Exposure Caused Woman's Wrongful Death, Lawsuit Claims
October 12, 2016
By: Irvin Jackson
According to allegations raised in a wrongful death lawsuit filed this week against Johnson & Johnson, daily exposure to talcum powder over a course of more than 50 years caused a woman to develop fallopian tube cancer, which ultimately took her life.
The complaint (PDF) was filed by Edward Spenny in the U.S. District Court for the District of Minnesota on October 11, on behalf of his wife, Gladys Spenny.
Spenny indicates that his wife regularly used Johnson & Johnson talcum powder products around her genitals on a daily basis for feminine hygiene, which allegedly caused her death from fallopian tube cancer in October 2013.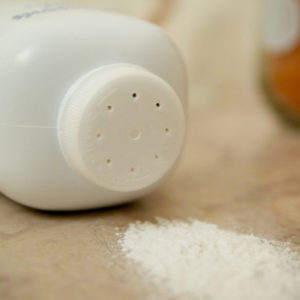 Although talcum powder is most commonly associated with use among infants to prevent diaper rash and maintain smooth skin, the products are widely used among adult women and Johnson & Johnson has promoted such use to maintain "personal freshness." Given the popularity of Johnson's Baby Powder among adult women, the company introduced and marketed Shower-to-Shower body powder for this specific purpose.
The case joins more than 2,000 similar Johnson's Baby Powder lawsuits and Shower-to-Shower lawsuits filed nationwide by women and their families, raising nearly identical allegations that Gladys Spenny was not adequately warned about the link between daily talcum powder use and cancer.
Spenny indicates that Johnson & Johnson knew or should have known about those risks for decades, with studies that should have raised a red flag dating back to the 1970s.
The wrongful death lawsuit notes that even if the manufacturer missed the numerous studies raising concerns about the link between talcum powder and cancer, it was notified at least by 1994, when the Cancer Prevention Coalition mailed a letter to the company's CEO, warning about the long history of studies indicating a link between perineal talcum powder use and cancer.
"The letter further stated that 14,000 women per year die from ovarian cancer and that this type of cancer is very difficult to detect and has a low survival rate," the lawsuit states. "The letter concluded by requesting that Johnson & Johnson withdraw talc products from the market because of the alternative of cornstarch powders, or at a minimum, place warning information on its talc-based body powders about ovarian cancer risk they pose."
Johnson & Johnson did neither.
So far this year, at least two cases have gone to trial in St. Louis over Johnson & Johnson's failure to warn about the cancer risk with talcum powder. Each of those trials resulted in a multi-million dollar damage award due to the failure to provide appropriate talcum powder warnings for women.
Last week, a panel of federal judges ordered all talcum powder lawsuits filed at the federal level be consolidated before one judge for pretrial proceedings in New Jersey, where District Judge Freda Wolfson will preside over coordinated discovery and bellwether trials.
As talcum powder cancer lawyers continue to review and file cases over the coming months and years, it is ultimately expected the number of complaints pending nationwide will continue to grow.
If talcum powder cancer settlements are not reached by Johnson & Johnson following bellwether trials or the coordinated proceedings in the federal MDL, it is possible that large numbers of cases may be remanded back to U.S. District Courts nationwide for individual trial dates.
Elaine

October 21, 2016 at 3:01 pm

Living in FL, I'll risk it because I prefer talc to their substitute of cornstarch. But I use mine on thigh pantylines, under breasts, under arms, inside elbows, inside knees, and around my neck and ears.

R.L

October 17, 2016 at 2:44 am

How about cervical cancer? I would like An answer to this.
"*" indicates required fields