DreamStation Class Action Lawsuits Filed On Behalf of Users Who Have To Replace Recalled CPAP and BiPAP Machines for Sleep Apnea Treatment
July 27, 2021
By: Irvin Jackson
Koninklijke Philips faces a growing number of class action lawsuits being brought on behalf of individuals who now have to replace recently recalled DreamStation CPAP and BiPAP machines and mechanical ventilators, which can no longer be used due to the serious health risks that may be posed by toxic foam which may breakdown and release black particles and gases into the air pathway for the sleep apnea and breathing machines.
A massive Philips DreamStation recall was first announced on June 14, involving an estimated 3.5 million devices sold since 2009, which contained a defective polyester-based polyurethane (PE-PUR) sound abatement foam used to reduce noise and vibrations while using the CPAP and BiPAP machines. However, the company is now telling consumers to immediately stop using most of the products, but is not providing any replacement CPAP or BiPAP device for those who rely on the machines for sleep apnea treatment.
In a complaint (PDF) filed in the U.S. District Court for the Central District of California on July 16, Lisa Mitrovich indicates that Koninklijke Philips, also known as Royal Philips or Philips Respironics, should be forced to provide a refund for owners of the recalled CPAP and BiPAP machines, as well as replace the devices with ones that do not experience the same foam degradation problems.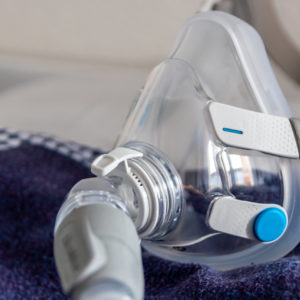 Philips CPAP Recall Lawsuit
Mitrovich, of Los Angeles, indicates she purchased a DreamStation BiPAP machine for about $900 in 2019, after being diagnosed with sleep apnea. The lawsuit indicates she would have not purchased the device if she had known about the health risks connected to the sound abatement foam, and now has to purchase another machine or go without the sleep apnea treatment.
"She would not have purchased this product if she had known it was defective, included an unsuitable polyurethane foam which excludes a potentially carcinogenic by product and other material hazardous to her health," the lawsuit states. "To date, Defendants have failed to replace ore repair her machine, or to provide any assistance."
The case is one of a growing number of Philips DreamStation class action lawsuits filed in courts nationwide, and the company is also expected to face tens of thousands of individual injury claims brought by individuals who have been diagnosed with cancer, respiratory issues or other health problems that may have resulted from exposure to chemicals and debris released by the PE-PUR foam.
Philips CPAP Machine Health Concerns
After Philips first disclosed the health risks posed by the CPAP/BiPAP machine foam, the FDA issued a safety communication on June 30, warning consumers and healthcare providers to immediately stop using the recalled breathing machines and seek medical attention if they are experiencing side effects.
The FDA warns replacement devices may not be readily available, and indicates individuals who use Philips DreamStation, CPAP or BiPAP machines should contact their healthcare providers to discuss a suitable treatment alternatives, which may involve more long-term life-style changes or more invasive CPAP treatment options.
For users with recalled Philips ventilators, which provide mechanical breathing assistance, the FDA indicates not to stop or change ventilator until after speaking with a doctor, as some patients require the life-sustaining therapy. While these users can place an inline bacterial filter in the device to catch the foam particles before they enter the airways, this may impede the ventilator performance and increase resistance of airflow through the device, according to federal health officials. In addition, this will not protect against problems caused by "off-gassing" of chemicals from the degraded foam.
Philips has suggested individuals living in areas with high temperatures or humidity may face an increased risk of the CPAP machine foam degrading, and certain ozone or UV light cleaning products may further accelerate the problems.
Koninklijke Philips, N.V. generated over $23 billion in revenue last year, and is expected to face massive liability from lawsuits and CPAP machine settlements over the next few years.
Joyce

August 6, 2021 at 3:26 am

we just learned of this recall we both have the same machine. I bought two so clean machines to help keep it clean then i find out that is part of the problem. I now have inline filters on the machines My husband has had two sinus surgeries, suffered Bacterial pneumonia. dont know if machine played a part in this ailment He has been fighting this for 2 years and is not over it yet.
"*" indicates required fields