EPA Proposes New Strategy To Address PFAS Contamination
December 16, 2020
By: Irvin Jackson
Federal regulators indicate wastewater treatment plants may be required to monitor for toxic "forever chemicals," which have polluted water sources due to their use in firefighting foams and other products.
Late last month, the U.S. Environmental Protection Agency (EPA) issued a press release announcing two new steps it plans to take to combat the presence of per- and polyfluoroalkyl substances (PFAS), which have caused widespread water contamination nationwide, especially in areas around military bases and other locations where firefighting foam was regularly used during training exercises.
One strategy would require wastewater treatment facilities to provide a plan on how they will remove PFAS from discharges. The other tactic will be to disseminate information on how to test for PFAS.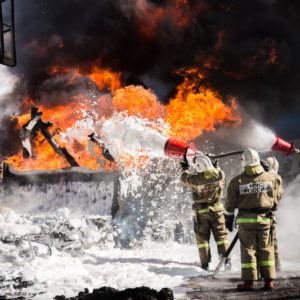 Aqueous film-forming foam (AFFF) has been used for decades to fight petroleum-based fires, which cannot be controlled or subdued by water alone. However, many versions of the fire foam contained PFAS chemicals, which are commonly referred to as "forever chemicals" because they can take decades to break down. They can also build up in the water, soil or human body, increasing the risk of cancer and other injuries.
In the United States, a number of communities around military bases, airports and other firefighter training locations have been found to contain high levels of PFAS in local water sources, which are often difficult to remove.
"Better understanding and addressing PFAS is a top priority for EPA, and the agency is continuing to develop needed research and policies," EPA Administrator Andrew Wheeler said in the press release. " For the first time in EPA's history, we are utilizing all of our program offices to address a singular, cross-cutting contaminant and the agency's efforts are critical to supporting our state and local partners."
The EPA issued a memorandum (PDF) which details an interim strategy within the National Pollutant Discharge Elimination System (NPDES) which is responsible for permitting of wastewater discharges.
The NPDES permitting strategy, put together by a workgroup comprised of EPA officials and officials from other agencies, recommends requiring wastewater permit writers to call for PFAS monitoring at facilities where the EPA expects PFAS chemicals to be present in wastewater discharges, including separate storm water runoff systems and industrial storm water permits.
The memorandum also calls for providing wastewater treatment plants with information on analytical methods which could help test for PFAS in wastewater. The methods are being developed by the EPA and the U.S. Department of Defense and would help detect 40 PFAS compounds present in wastewater, soil, and other environmental media, the press release indicates.
"Managing and mitigating PFAS in water is a priority for the Office of Water as we continue our focus on meeting 21st century challenges," said EPA Assistant Administrator for Water David Ross. "These actions mark important steps in developing the underlying science and permitting techniques to address PFAS in wastewater where the discharge of these chemicals may be of concern."
The new strategies come as chemical and safety equipment manufacturers face hundreds of firefighting foam lawsuits pending nationwide, including claims presented by local governments and water districts, as well as claims brought by former firefighters diagnosed with testicular cancer, kidney cancer, pancreatic cancer and other injuries after direct exposure to the chemicals.
Given common questions of fact and law raised in the PFAS litigation, all cases filed throughout the federal court system are currently centralized in the U.S. District Court for the District of South Carolina for coordinated discovery and pretrial proceedings, where small groups of water contamination cases and cancer claims are being prepared for early trial dates.
"*" indicates required fields