Extra Strength Tylenol Liver Risks Result in New Red Cap Warnings
August 30, 2013
By: Austin Kirk
In response to a growing number of product liability lawsuits and continuing concerns over the adequacy of warnings provided about the liver risks with Extra Strength Tylenol, Johnson & Johnson has decided to add a new "red cap warning" to the widely used pain reliever.
According to a report by the Associated Press, bottles of Extra Strength Tylenol will be shipped with bold red warnings on the top of the cap starting in October.
The new warnings will indicate that the product "Contains Acetaminophen" and state that consumers should "Always Read The Label," after the drug maker has faced substantial criticism for failing to draw sufficient attention to existing label warnings about the risk of serious liver damage from side effects of Tylenol.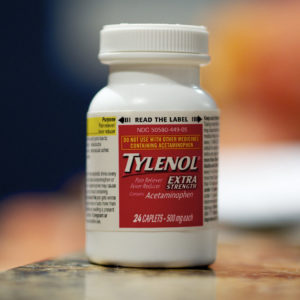 Risk of Liver Failure From Extra Strength Tylenol
It has been known for years that acetaminophen, the active pharmaceutical ingredient in Tylenol, poses a serious risk of liver failure. However, due to aggressive marketing by Johnson & Johnson and their McNeill subsidiary, consumers widely believe that Tylenol is a safe pain medication and give little thought to how much of the drug they take.
Acetaminophen has been recognized as the leading cause of liver injury in the United States, resulting in more than 50,000 emergency room visits each year, including 25,000 hospitalizations and 450 deaths. In addition to Tylenol, the medication is found in more than 600 other products, including NyQuil, Excedrin, Sudafed and other common cold medications.
In recent years, federal health officials have been focusing on raising awareness about the risk of overdosing on acetaminophen, including the risk of taking multiple medications that contain the pain killer.
While Johnson & Johnson did agree to revise the recommended daily dose of Tylenol in 2011, reducing it from 4,000 mg per day to 3,000 mg, the drug maker has faced substantial criticism for continuing to sell Extra Strength Tylenol, which contains 500 mg in each tablet and poses a serious risk of liver failure if consumers take more than two tablets every six hours.
Some estimates have suggested that nearly a quarter of users take more than the recommended dose, which could result in small, accidental Tylenol overdoses that may go untreated, increasing the risk of liver failure or death.
Tylenol Lawsuits
The new Extra Strength Tylenol red cap warnings come as Johnson & Johnson faces a mounting number of lawsuits filed in courts throughout the United States on behalf of users who allege that the drug maker has placed their desire for profits before consumer safety by withholding information about the Tylenol liver risks for years.
According to allegations raised in many Tylenol liver injury lawsuits, the drug maker has known for decades about the serious risk of consumers experiencing liver problems and has refused to adequately warn consumers or the medical community.
Earlier this year, the Tylenol litigation in the federal court system was centralized before one judge as part of an MDL, or Multidistrict Litigation. There are currently at least 80 lawsuits pending nationwide, and as Tylenol injury lawyers continue to review cases for individuals who suffered liver damage or liver failure, it is ultimately expected that hundreds, if not thousands of complaints will be filed.
"*" indicates required fields