FDA Strengthens Sunscreen Regulations After Benzene Recalls
September 27, 2021
By: Martha Garcia
Following recent massive sunscreen recalls issued after it was confirmed that certain spray products contained high levels of the carcinogen benzene, federal regulators are now looking for ways implement more stringent standards for products sold in the U.S.
On September 24, the U.S. Food and Drug Administration issued a press release announcing plans to improve the quality, safety and effectiveness of over-the-counter sunscreen products. The agency issued a proposed order in the Federal Register, which would make key changes to a Final Administrative Order (PDF) issued in 2020, to add new requirements affecting the maximum sunscreen protection values (SPF), the active ingredients, labeling, testing requirements and numerous other requirements.
Sunscreen products will have to meet these new requirements in order to be deemed by the FDA as "generally recognized as safe and effective (GRASE)". Some of the requirements are from a 1999 final monograph regulation for OTC sunscreen products, which never took effect, as well as labeling and effectiveness requirements from a 2011 labeling and effectiveness testing rule.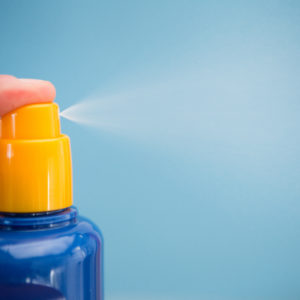 "Sun safety is important for everyone, regardless of your skin tone. Americans can reduce risks from sun exposure with continued use of sun protection measures including broad spectrum sunscreen with SPF values of at least 15," Acting FDA Commissioner Janet Woodcock, said in the press release. "Today's activities represent a key milestone in our implementation of transformative new authorities related to OTC drugs that will allow us to continue ensuring that sunscreens are safe and effective for frequent, life-long use and provide consumers with the protection they expect from these products."
One of the new requirements will only allow sunscreen products with an SPF value of 15 or higher to declare that use can help protect against skin cancer, while those with lower SPF values will only be able to advertise themselves as helping to prevent sunburn.
Another focus of the new provisions is to acknowledge the importance of ultraviolet A rays (UVA) and to make sure consumers have access to sunscreens with adequate UVA protection. According to the FDA, a growing body of scientific evidence has linked UVA exposure to skin cancer and other health problems.
The final administrative order was first put in place in March 2020, as part of the 2020 Coronavirus Aid, Relief, and Economic Security (CARES) Act. The CARES act provided the agency with new authorities for some over-the-counter (OTC) drugs, like sunscreen. The CARES Act gave the FDA until September 27, 2021, to propose revisions to the 2020 Final Administrative Order.
The FDA will accept comments on the proposed order for 45 days before issuing a final order. The CARES Act indicates there must be a year between the proposed order and its finalization, however, meaning there would not be a final sunscreen order until at least late September 2022.
Sunscreen Benzene Recalls
Revising sunscreen quality and safety garnered public attention after recent testing indicated many sunscreens contain dangerously high levels of benzene, a toxic chemical. Benzene was found in nearly 80 sunscreen products including name brands such as Banana Boat, Aveeno, and Neutrogena as well as generic brands like CVS Health. Benzene increases the risk of various types of cancer.
Following the revelation of the tests, conducted by the independent online pharmacy, Valisure, Johnson & Johnson announced a Neutrogena and Aveeno recall on July 14. The company now faces a growing number of sunscreen lawsuits being filed throughout the federal court system, each raising similar allegations that the company endangered consumers' health by not warning them of the presence of benzene.
Benzene is an industrial chemical that has been associated with the development of several fatal forms of cancer, leukemia and other conditions, such as AML, Chronic Myelogenous Leukemia (CML), Acute Lymphocytic Leukemia (ALL), Chronic Lymphocytic Leukemia (CLL), Hairy Cell Leukemia (HCL), Non-Hodgkin's Lymphoma, Multiple Myeloma, Myelodysplastic Syndrome (MDL), Myelofibrosis and Myeloid Metaplasia, Aplastic Anemia and Thrombocytopenic Purpura.
Due to the potential health risks, the FDA indicates benzene should not be included in drug or consumer products, if avoidable. However, if benzene is not avoidable, it should be restricted to 2 parts per million (ppm), FDA regulations state. However, testing suggests that levels of benzene in the Neutrogena and Aveeno sunscreen may substantially exceed the permissible levels.
Long-term side effects of benzene exposure have been proven to cause anemia, which is a condition that develops when your blood lacks enough healthy red blood cells or hemoglobin. Essentially, the chemical causes bone marrow not to produce enough red blood cells, which can damage an individual's immune system. Federal regulators have determined long-term exposure to benzene can significantly impact blood cells, to the extent it causes cancer such as leukemia, a cancer of the blood-forming organs.
Jennifer

November 27, 2021 at 6:07 pm

I have cancerous cells in my calf after using coppertone spray on sunscreen
"*" indicates required fields