Hydrolyzed Infant Formula Does Not Protect Babies from Allergic Disease, Autoimmune Disorders: Study
March 10, 2016
By: Martha Garcia
Despite claims by infant formula manufacturers, new research suggests that hydrolyzed formula does not actually help prevent allergies or autoimmune disease, raising questions about current guidelines that recommend the products for certain high risk infants.
In a study published this week in the medical journal The BMJ, researchers from the United Kingdom indicate that there is no evidence to support health claims that partially hydrolyzed infant formal reduce the risk of eczema or allergy to cow's milk. The study also found potential conflicts of interest in prior research that backs current guidelines.
Hydrolyzed formula is often recommended in the U.S., the UK, and Europe to help prevent infants from getting autoimmune diseases and allergic among infants who may have a family history of those conditions. Many manufacturers market the products with FDA approved claims supporting the health benefits.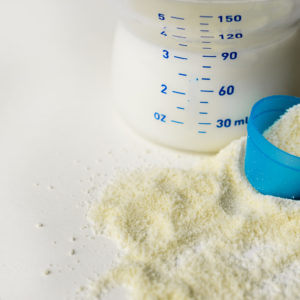 In this latest report, researchers reviewed data from 37 studies focused on hydrolyzed infant formula, pulled from Medline, Embase, Web of Science, CENTRAL, and LILACS. The data included more than 19,000 participants between January 1946 to April 2015.
The results indicate that specialized hydrolyzed infant formula offers no benefit in protecting an infant from developing eczema and other allergic conditions or autoimmune disease. It also found that it did not prevent allergies to cow's milk, allergic rhinitis, conjunctivitis, asthma, food allergy, allergic sensitization, and autoimmune diseases, including type 1 diabetes.
The review of infant formula studies commissioned by the UK Food Standards Agency, focused on previous research where hydrolyzed formula was compared with another hydrolyzed formula, human breast milk, or standard cows' milk formula.
The review determined there was no consistent evidence that partially or extensively hydrolyzed formulas reduce the risk of allergic or autoimmune outcomes in infants at high preexisting risk of these conditions.
Researchers also found evidence of a conflict of interest or bias in most of the previous studies on the issue. In 31% of the studies, there was a clear conflict of interest, and in 51% of the studies it was unclear whether there was a conflict of interest. The bias was often due to financial links with baby formula manufacturers.
The study also discovered some prior research actually showed that formula did not reduce allergies, but those findings were not published.
Hydrolyzed or partially hydrolyzed formula is treated with heat to break down the milk proteins in the attempt to make them easier for infants to digest them. This type of formula is often sold as special hypoallergenic formulations, including brands such as Similac Expert Care Alimentum, Enfamil Nutramigen, and Enfamil Pregestimil.
Lead author of the study Robert J. Boyle emphasized breast feeding is the healthiest, proven option to protect against most disease. He also highlighted the need for further studies that are not funded by formula companies.
"*" indicates required fields