Gas Can Flame Mitigation Devices Required Under New CPSC Safety Standard
January 18, 2023
By: Russell Maas
Federal safety officials have finalized a series of new mandatory safety standards, which will require gas can flame mitigation devices to prevent vapors from catching on fire and traveling back into the gas canister.
The U.S. Consumer Product Safety Commission (CPSC) announced the new gas can requirements on January 17, indicating that all new portable fuel containers sold in the U.S. must be equipped with flame arrestors by July 2023.
The push for the new gas can rules comes amid a growing concerns about reports of portable gas can explosions, most of which could be prevented with an inexpensive safety feature added to the container.
The CPSC reports thousands of individuals are treated at emergency departments for burn injuries related to flammable liquids each year, with many occurring as a result of mishandling fuel during the ignition of a backyard fire pit, campfires or burning trash.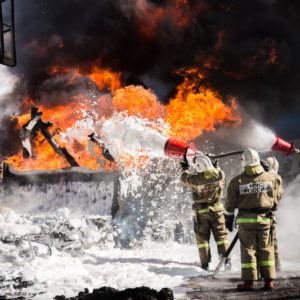 Gas Can Flame Explosion Risks
Portable gas canisters can allow invisible vapors from the fuel to seep out of the spout. When these vapors come in contact with an open flame or other ignition source, they can create what is known as flame jetting, which is when vapor and liquid expel from the mouth of the container, creating a flammable stream.
In a May 2022 memorandum, officials indicated these types of events have been frequently associated with severe burn injuries and death.
To prevent flame jetting events, the CPSC published a final rule in the Federal Register that will now require all classes of portable fuel containers to be equipped with a flame mitigation device, often referred to as flame arrestors.
The devices involve the use of a screen that quenches and cools a flame, so that it cannot pass through. Flame arrestors are designed with small holes in the gas can spout, which is a "technology" that has been around for over 200 years, as they were originally designed to prevent explosions when coal miners carrying lanterns entered a packet of gas within a mine.
New Gas Can Requirements
The CPSC will require flame arrestors on all new gas cans and other fuel containers that are sold empty, such as for kerosene and diesel, and on new containers that are sold pre-filled with fuels such as charcoal lighter fluid, liquid fireplace fuels and pre-mixed gasoline and engine fuel.
While many fuel containers currently being sold already contain these safety devices, the commission voted 4-0 to make them mandatory on all new portable fuel containers beginning in July 2023.
Federal safety regulators have been calling for manufacturers to voluntarily equip gas cans and other portable fuel containers with flame arrestors since at least 2013, noting that the added cost is under $.50 each.
With more than 100 million plastic gas cans in circulation within the United States, and about 20 million sold each year, the small investment by manufacturers could have prevented thousands of injuries to consumers, CPSC officials say.
Over the past decade, dozens of gas can product liability lawsuits have been filed against manufacturers who sold containers without flame arrestors, with many resulting in multi-million damage awards as a result of the decision to place profits before consumer safety or warning about the missing safety feature that may have prevented extensive injuries.
W

January 19, 2023 at 10:51 am

Wow! It's the gas can, not the moron on the handle! We should apply this idiot logic to car keys and guns.
"*" indicates required fields