Hair Relaxer Uterine Cancer Lawsuit Filed Against Makers of Dark & Lovely, Just for Me and Cantu Shea Butter Relaxer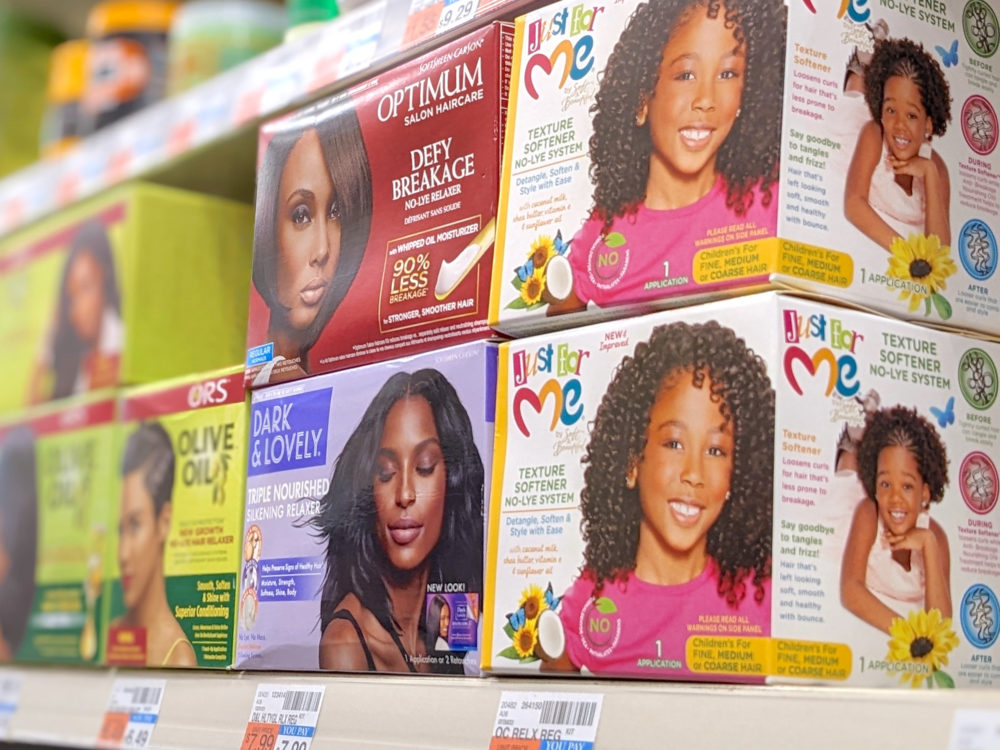 November 04, 2022
By: Irvin Jackson
Dark & Lovely, Just for Me and other popular hair relaxers expose women to harmful phthalates and other endocrine disrupting lawsuits, according to lawsuit
Hair relaxer caused uterine cancer to develop following 30 years of regular use
Plaintiff joins hundreds of other women now pursuing a hair relaxer cancer lawsuit
According to allegations raised in a recently filed product liability lawsuit, an Illinois woman developed endometriosis and uterine cancer from hair relaxer products she used for for nearly three decades of her life, including Dark & Lovely, Just for Me and Cantu Shea Butter Relaxer.
The complaint (PDF) was filed by Timika Smith this week in the U.S. District Court for the Northern District of Illinois, pursuing claims against L'Oreal USA, Inc., Soft Sheen-Carson LLC., Strength of Nature, LLC, Godrej Son Holdings, Inc. PDC Brands, and Parfums De Coeur, Ltd. as defendants, alleging that the companies have failed to warn women about toxic chemicals in the popular hair straightener and home perm products.
Chemicals in Dark & Lovely, Just for Me and Other Hair Relaxers
The case joins a growing number of hair relaxer lawsuits now being filed, following the publication of several studies that highlighted health risks associated with phthalates and other endocrine disrupting chemicals found in a number of products widely marketed to Black women, including Dark & Lovely, Just of Me, Optimum, Motions, Olive Oil Girls and other brands.
In addition to hair relaxer uterine cancer lawsuits, plaintiffs have also filed claims over the development of breast cancer, uterine fibroids, endometriosis and other injuries that have a known link to the chemicals.
Based on marketing campaigns that targeted African-American women and described the products as safe, Smith indicates that she began using the hair relaxers in 1987, when she was only 10 years old. She continued using the products until at least 2017, when she was diagnosed with uterine cancer and endometriosis.
Endometriosis is a condition where cells like those lining the uterus begin to grow outside of the uterus, onto the ovaries, Fallopian tubes and tissue lining the pelvis. The condition can cause pain during periods, intercourse, bowel movements or urination, and can also cause excessive bleeding and infertility. In addition, ovarian cancer appears to occur at higher rates among those with endometriosis.
The cosmetics industry has long known about the problem, but decided to sacrifice mostly African-American women to increase and maintain profits, the lawsuit indicates.
"Concerns around racial disparities in healthcare linked to chemicals found in cosmetic products are not new; previous studies, as far back as 2012, have also suggested a correlation between chemical relaxer use and uterine fibroids, a condition that disproportionately affects Black women," Smith's lawsuit states.
Uterine Cancer Risk from Hair Relaxer
In recent years, studies have been published that make a connection between use of hair relaxer and cancer, raising concerns about the wide spread use of the products by Black and other minority women throughout the U.S.
In October, researchers published findings in the Journal of the National Cancer Institute, which warned that ingredients used in the chemical hair relaxers may cause uterine cancer. Researchers found that the rate of uterine cancer was nearly three times greater among women who frequently used hair relaxer chemicals, compared to women who never used the products.
Researchers from the National Institute of Environmental Health reviewed data on nearly 34,000 women in the United States between the ages of 35 and 74 who completed questionnaires on their use of multiple hair products, including hair dyes, straighteners, relaxers, or pressing products, and permanents or body waves. A 10 year follow-up on the incident rate of uterine cancer diagnosis was performed.
According to the results, researchers identified 378 uterine cancer cases, finding participants who used hair straightening products at least once had the highest rate of uterine cancer diagnosis compared to any other hair products involved in the study. They also had a higher rate of uterine cancer when compared to women who used no hair straightener products.
Other Side Effects of Hair Relaxers
Similar to several other Strength of Nature Global, LLC lawsuits and  L'Oreal USA and Soft Sheen-Carson lawsuits filed, Smith outlines the findings of other studies and reports which identified health concerns associated with the phthalates and endocrine disrupting chemicals in hair relaxers sold by the Defendants.
A 2019 study published in the International Journal of Cancer (IJC) issued similar findings, indicating women who reported regularly using straighteners and permanent hair dyes were 9% more likely to develop breast cancer than non-users.
Over an eight year period, researchers identified 2,794 cases of breast cancer after chemical hair straighteners use. The study revealed those who frequently used hair straightener products were at a significantly increased risk of breast cancer, finding women using hair straighteners at least every five to eight weeks, had a 30% increased risk of developing breast cancer.
Researchers warned that African American women who reported using permanent hair dyes regularly were associated with a 60% increase of breast cancer diagnosis, compared to an 8% increased risk for Caucasian women.
The lawsuit also points out that uterine fibroids and endometriosis have been associated with phthalate metabolites in hair relaxers.
Find Out If You Are Eligible for a Hair Relaxer Settlement
Were you or a loved one diagnosed with uterine cancer, breast cancer or urine fibroids following use of hair relaxer, settlement benefits may be available. Lawyers provide free consultations and claim evaluations.
CONTACT A LAWYER
Image Credit: Kelly Heck Photography
Alma

November 7, 2022 at 8:54 pm

Used dark and lovely at 18, I suffer so badly, endometriosis, heavy bleeding, painful cramps, my Husband left Me because of the painful intercourse, dued to scared fallopian tubes caused by blocked tumors, made my life a living hell and especially during my yearly pap smear

Charlene

November 7, 2022 at 2:40 pm

I used it 35 +years haven't used it over the last 4yesrs

Melissa

November 6, 2022 at 10:36 am

I am so glad I seen this today it's a God thing coz I just used a texture softener in my 8 yrs old little girl just for me . I will never do that again . Thank you Lord for putting this in my sight today

Janet

November 5, 2022 at 5:13 pm

Woww this is crazy.

Linda

November 5, 2022 at 3:00 pm

I was given a Dark and Lovely perm when I was taking Cosmetology at B. C. Elmore years 1971/1972 under a teacher Mrs Lee. She left this perm on it took my hair out and I had chemical burns and I'll never forget that to this day. After that day I refused to use Dark and Lovley Products but found another product that I saw I liked after starting doing my own perm and that was Just For Me. Cause I've[Show More]I was given a Dark and Lovely perm when I was taking Cosmetology at B. C. Elmore years 1971/1972 under a teacher Mrs Lee. She left this perm on it took my hair out and I had chemical burns and I'll never forget that to this day. After that day I refused to use Dark and Lovley Products but found another product that I saw I liked after starting doing my own perm and that was Just For Me. Cause I've tried Revlon products, Pink Moisture Perm, but stayed clear of Dark and Lovely. Some people laugh talking about Just For Me is for Children but I told them that's what straighten my hair this straight and pretty plus I didn't have bad hair and it grew my hair and I used it up until I got Ovarian cancer in 2014. But I was diagnosed with Endometriosis in 1990. I was a patient with Lyndon B Johnson Hospital. Was named something else before then back in 1990
"*" indicates required fields