Amid Roundup Cancer Concerns, Hawaii Residents Call For Stricter Pesticide Rules
January 04, 2017
By: Irvin Jackson
Residents, activists and legislators in Hawaii are calling for more stringent regulations on the use of pesticides, including a ban on the weedkiller glyphosate, which is the active ingredient in Monsanto's Roundup and a potential human carcinogen. 
Amid mounting concerns worldwide about the link between exposure to Roundup and non-Hodgkins lymphoma, Hawaii state senator Josh Green, who is also an emergency room doctor, indicates that he plans to introduce a bill that would ban glyphosate. If successful, Hawaii would be the first state in the U.S. to ban the pesticide.
In addition to Green's proposed legislation, a number of other consumer groups and lawmakers are calling for stricter control of spraying and overall use of pesticides throughout the island state of Hawaii, which has become a testing ground for weed killers, bug sprays and genetically-modified crops due to its year-round warm weather and growing conditions.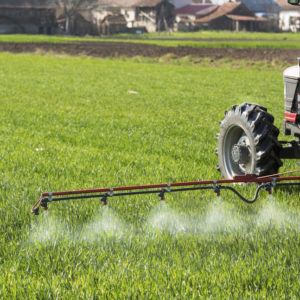 The proposed bills include recommended buffer zones, increased fees, and increased reporting requirements. Residents and lawmakers say they fear the health effects the heavy use of pesticides, particularly experimental ones, are having on the environment, food supply and public health.
The county of Hawaii considered a ban on Roundup and other glyphosate products in 2015, shortly after the World Health Organizations' International Agency for Research on Cancer (IARC) determined that glyphosate is a probable human carcinogen. However, the bill was withdrawn just days after it was introduced.
In recent years, there has been world-wide debate over the non-Hodgkin's lymphoma risk from Roundup and other glyphosate-based weedkillers, raising questions about why Monsanto failed to warn farmers, landscapers, gardeners and other consumers about the potential risks associated with regular and consistent exposure.
To date, no state has moved forward with a ban on glyphosate, and Hawaii would be the first to do so if Green's measure passes. Monsanto has challenged states in court over even placing warnings on Roundup, so it is likely the company would vigorously challenge a full ban in court, particularly in a state large agricultural companies use as a testing ground for new products.
Roundup Litigation
Monsanto is currently facing a growing number of Roundup cancer lawsuits filed throughout the United States, typically involving individuals diagnosed with a form of non-Hodgkin's lymphoma following heavy exposure to the herbicide as a farm or agricultural worker. The complaints allege that the manufacturer recklessly promoted Roundup and pushed greater and greater use of the chemical, without disclosing the potential health risks.
A recent U.S. Geological Survey on glyphosate usage nationwide found that an estimated 2.6 billion pounds of the herbicide has been sprayed on America's agricultural land over the two decades since the mid-1990s, when Monsanto introduced "Roundup Ready" crops that are designed to survive being sprayed with glyphosate, killing the weeds but not the crops.
The lawsuits over Roundup allege that plaintiffs may have avoided a diagnosis of non-Hodgkin's lymphoma or other cancers if they had been warned about the Roundup risks for farmers, landscapers and others in the agricultural industry, as safety precautions could have been taken or other products could have been used to control the growth of weeds.
"*" indicates required fields