Giving Human Milk Fortifier to Low Birth Weight Newborns Lowers NEC Risks: Study
May 19, 2023
By: Irvin Jackson
The findings of a new study suggest that hospitals could save between $500,000 and $3.4 million every year if they gave newborns human milk-based infant formula, instead of cow's milk-based products like Similac and Enfamil, based solely on the reduction in instances of necrotizing enterocolitis (NEC), the findings of a new study indicate.
Hospitals that put into place programs to feed infants in neonatal intensive care units (NICU) exclusively human milk diets saw fewer cases of NEC among premature infants, avoiding serious and often life-threatning injuries, as well as reducing treatment costs according to findings published this month in the medical journal BMC Pediatrics.
Researchers from children's hospitals nationwide say human milk-based fortifiers have been available since at least 2006, making exclusive human milk diets (EHMDs) possible for newborns, even when their mother cannot breast feed. However, despite repeated evidence of benefits over cow's milk-based formula, the programs have not been widely adopted.
The findings are the latest in a number of studies over the years that suggest human milk, even if it has to come from donors and not the birth mother, is a better option than infant formula products for the growth and development of a child.
Infant Formula Concerns
A number of prominent health organizations have raised concerns about the aggressive marketing of Similac, Enfamil and other formula products over the past decade, which promoted the cow's milk-based formula as an equally effective alternative to a mother's breast milk.
False and misleading statements have been blamed for driving many families away from breastfeeding, and suppressed demand for human donor milk, while also increasing the incidence of NEC from infant formula.
These allegations have been raised in a number of Similac lawsuits and Enfamil lawsuits being pursued by families of premature babies who developed a severe and life-threatening affliction, known as necrotizing enterocolitis (NEC).
Families allege that the formula manufacturers knew that products like Similac and Enfamil cause NEC at substantially higher rates than is seen among premature babies fed breast milk or donor milk alone, yet the products were actively promoted use of among newborns still in the NICU. The manufacturers even introduced specific formulations of Similac and Enfamil for use among premature babies, which has been blamed for causing many cases of avoidable NEC injuries.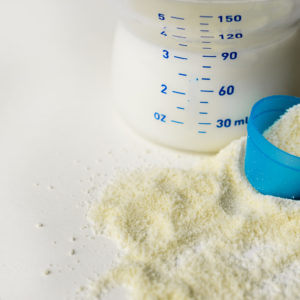 In this latest study, nine experts from seven children's health institutions held a virtual roundtable in October 2020. The centers had all implemented an EHMD program in its NICU ward and provided a review of their programs' effectiveness.
According to their findings, hospitals which implemented human milk-only practices for very low birth weight patients in their NICU wards saw reductions in comorbidities, and the hospital's size and level of care did not matter. Those NICUs which had data on NEC incidents, specifically, saw decreases in total NEC rates and reductions in the need for NEC-related surgeries, the researchers determined.
On top of the reduction of potential injuries and deaths among their most vulnerable patients, those hospitals also determined the programs were cost effective. The hospitals reported reduction in costs related to NEC of between $515,113 and $3,369,515 per year once EHMD programs were implemented.
Human Milk Infant Formula Barriers
The researchers noted that the hospitals all reported implementing such programs were difficult, despite their eventual successes.
"Implementation of an EHMD program faces many barriers, no matter the NICU size, patient population or geographic location," the researchers warned. "Successful implementation requires a team approach (including finance and IT support) with a NICU champion. Having pre-specified target populations as well as data tracking is also helpful."
The researchers also noted there were other hurdles to overcome, such as limited data on health economics and outcomes data, concerns over costs, and the lack of standardized feeding guidelines.
The researchers called for such guidelines to be created which would emphasize the preference for human milk-based formula over cow's milk-based products as a standard of care.
"*" indicates required fields