Babies Should Be Fed Human Milk for Their First Six Months, Pediatrician Group Says
July 19, 2022
By: Irvin Jackson
Amid rising concerns about the risk of necrotizing enterocolitis (NEC) and increasing evidence about the health benefits of breast feeding, new policy guidelines issued by a group representing U.S. pediatricians recommends parents try to avoid infant formula for the first six months of their baby's life.
The American Academy of Pediatrics (AAP) issued an updated policy statement and a technical report in the July issue of the medical journal Pediatrics, calling for hospitals and the government to promote breastfeeding as the primary form of nutrition for newborns.
The statement calls for medical providers to support and encourage breast feeding with strong policies designed to assist mothers who wish to breastfeed their children, in stark contrast to decades of hospitals allowing infant formula manufacturers to promote their products directly to new patients with free samples and gift baskets.
Infant Formula Health Risks
The new policy position comes as concerns over necrotizing enterocolitis (NEC), linked to the use of cow's milk-based infant baby formula such as Similac and Enfamil, have grown in recent years.
NEC is a devastating disease that mostly impacts preterm infants, where the walls of the intestine are invaded by bacteria, leading to destruction of the bowel and often requiring emergency surgery while the baby is still in the neonatal infant care unit (NICU). This can leave the infant with severe and life-changing injuries, as well as a substantial risk of premature death.
Over the past few decades, a number of studies have established that cow's milk formula like Similac and Enfamil cause NEC at substantially higher rates than is seen among premature babies fed breast milk or donor milk alone, and a number of families are now pursuing NEC lawsuits against the manufacturers of these products, alleging that inadequate warnings and information have been provided for decades about the risk among pre-term babies.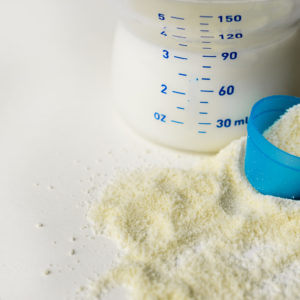 "Human milk is all a baby needs for the first six months of life," lead author, Dr. Joan Younger Meek, said in an AAP press release issued on June 27. "Breast milk is unique in its nutrients and protective effects, and really quite remarkable when you look at what it does for a child's developing immune system. Not everyone can breastfeed or continue breastfeeding for as long as desired for various reasons, including workspace barriers. Families deserve nonjudgmental support, information and help to guide them in feeding their infant."
The AAP issued a number of recommendations to encourage breastfeeding. It calls for exclusive breastfeeding for the first six months. It also calls for hospitals to put maternity care practices in place which improve breastfeeding "initiation, duriation, and exclusivity," encourages breastfeeding to up to two years of age if possible, and calls for policies that promote breastfeeding; such as universal paid maternity leave, laws protecting women who breastfeed in public, insurance coverage for lactation support and breast pumps, on-site child care, universal workplace break times with clean, private locations for expressing milk, and the right to breastfeed at child care centers and schools.
"There is no need to introduce infant formula or other sources of nutrition for most infants," the group states.
It is unclear what impact the new recommendations will have on Similac NEC lawsuit or Enfamil NEC lawsuit being pursued against Abbott Laboratories and Mead Johnson, which allege that the manufacturers have known for years about the risks associated with use of their products among premature infants, and continued to specifically promote formula and fortifiers among this vulnerable population.
Given similar questions of fact and law raised in complaints filed in various different U.S. District Courts nationwide, the U.S. Judicial Panel on Multidistrict Litigation (JPML) established coordinated management for all NEC lawsuits against Similac and Enfamil manufacturers in April, requiring that any case filed throughout the federal court system be transferred to U.S. District Judge Rebecca R. Pallmeyer in the Northern District of Illinois.
"*" indicates required fields