Talcum Powder Wrongful Death Lawsuit Filed By Families Of Six Women Who Died From Ovarian Cancer
June 07, 2016
By: Irvin Jackson
Johnson & Johnson faces a joint lawsuit over the side effects of talcum powder, which was filed by a group of 10 plaintiffs, including the families of six women who died from ovarian cancer allegedly caused by use of Johnson's Baby Powder or other talc-based products. 
The complaint (PDF) was filed last week in California Superior Court in Santa Clara County on behalf of Lyn Killian Roseman, Valerie Lombardi, Linda Wong-Farenbaugh, and Malea Daughton, all individuals who say they were diagnosed with ovarian cancer from Johnson & Johnson talcum powder. The lawsuit also includes wrongful death claims by the families of Queen Esther Holcomb, Evelyn Hunt, Nancy Gustavson, Carol Pfeiffer, Carolyn T. Johnson and Lorene G. Hepworth, all of whom allegedly died as a result of talcum powder exposure.
Each of the plaintiffs indicate that they used a Johnson & Johnson talcum powder products for feminine hygiene purposes, claiming that the talc contained in the body powder migrated through the vagina and caused them to develop ovarian cancer.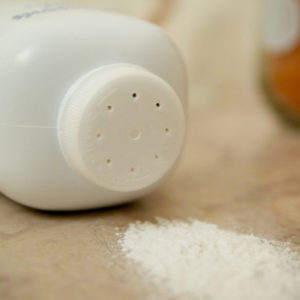 The lawsuit alleges that the manufacturer knew or should have known about the ovarian cancer risks from talcum powder, yet withheld information from women and promoted the use of their products in the underwear and around the genital area for adult women.
Johnson & Johnson faces several thousand similar Baby Powder lawsuits and Shower-to-Shower lawsuits brought by women and families throughout the United States, many of which involve talcum powder wrongful death claims.
So far this year, at least two cases have gone before juries nationwide, each resulting in multi-million dollar damage awards as a result of Johnson & Johnson's failure to disclose the link between talcum powder and ovarian cancer.
Talcum Powder Ovarian Cancer Risks Ignored by Johnson & Johnson
While talcum powder is most commonly associated with use as a baby powder to help prevent diaper rash and maintain smooth skin, Johnson & Johnson has promoted their products for decades as a general body powder among adult women, who were encouraged to use talcum powder after every shower and place it in their underwear to maintain "personal freshness".
A number of studies have indicated that talcum powder can increase the risk of ovarian cancer when applied to a woman's genitals. At least one study even found particles of talc at the center of ovarian tumors.
Despite the findings, Johnson & Johnson has refused to provide warnings for women using their products about the link between talc and ovarian cancer, apparently doubling down on the decision to ignore the potential risk for decades.
"The Defendants failed to inform its customers and end users of the products of a known catastrophic health hazard associated with the use of its products," this latest lawsuit states. "In addition, the Defendants procured and disseminated false, misleading, and biased information regarding the safety of the products to the public and used influence over governmental and regulatory bodies regarding talc."
Evidence presented at recent trials included company documents that suggested Johnson & Johnson was aware of the potential link between talcum powder and ovarian cancer since the 1970s. However, even as recently as 1992, some documents indicate that the company specifically targeted sales towards women who were high users of talcum powder, without ever warning them of the possible cancer risks.
If additional juries respond with similar verdicts after considering the evidence, Johnson & Johnson could face substantial liability if talcum powder ovarian cancer settlements are not reached to resolve individual claims brought by women and families throughout the U.S.
Esther

June 14, 2016 at 11:34 am

Johnson & Johnson is so wrong to not help women with the issues of ovarian cancer..it's a WIN WIN situation. Struggling with cancer is no joke as I am fighting breast cancer. Good luck!
"*" indicates required fields