Lifelong Use of Baby Powder, Shower-to-Shower Caused Ovarian Cancer, Lawsuit Alleges
February 08, 2017
By: Irvin Jackson
After using Johnson's Baby Powder and Shower-to-Shower body powder for feminine hygiene purposes for nearly her an entire life, a woman in her 90s indicates that she developed ovarian cancer, according to a lawsuit filed this week against Johnson & Johnson over it's failure to warn about the potential side effects of talcum powder use around the genitals. 
The complaint (PDF) was filed by Frances Escobedo in the U.S. District Court for the Southern District of California on February 6, alleging that Johnson & Johnson failed to inform women about the catastrophic health hazards associated with their product, including the risk of ovarian cancer.
Escobedo is currently 94, and indicates that her lifelong use of talcum powder products caused her ovarian cancer diagnosis, resulting in a number of harsh treatments, including chemotherapy, radiation therapy, Type 2 radical oophorectomy with retrograde total abdominal hysterectomy, bilateral salpingo-oophorectomy, partial rectosigmoidectomy with stapled side-to-end low rectal anastomosis, and bilateral ureterolysis.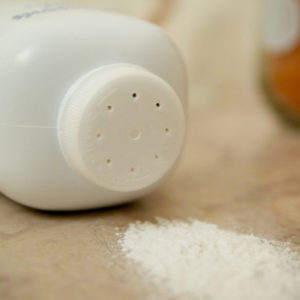 "When Plaintiff was an infant, her mother applied Shower to Shower, and J&J Baby Powder to Plaintiff. As she grew up, and throughout her life, Plaintiff continued to use the Products daily," the lawsuit states. "Plaintiff continued to use the Products following her initial diagnosis of ovarian cancer in 2013. There was never any indication, on the Products, packaging or otherwise, that this normal use could and would cause Plaintiff to have developed or to develop ovarian cancer."
The case joins thousands of similar Baby Powder lawsuits and Shower-to-Shower lawsuits filed in recent months by women battling ovarian cancer, as well as the families of women who have died, alleging that Johnson & Johnson knew or should have known about the risks associated with talcum powder exposure, yet failed to warn consumers against placing the powder around the genitals.
Last year, at least three bellwether cases went to trials in Missouri state court, each resulting in multi-million dollar damage awards against Johnson & Johnson for failing to provide ovarian cancer warnings for women using talcum powder.
The most recent verdict came in November 2016, with a jury ordering Johnson & Johnson to pay $70 million in compensatory and punitive damages to a woman left with ovarian cancer following users of using talc powder for feminine hygiene. Prior to that case, other juries awarded $72 million in damages in a bellwether trial in February 2016, and $55 million in May 2016.
While there are at least 2,000 state court cases pending in Missouri, a growing number of complaints like Escobedo's continue to be filed throughout the federal court system, where coordinated pretrial proceedings were established in October 2016, centralizing the talcum powder litigation before U.S. District Judge Freda Wolfson in the District of New Jersey.
As part of the MDL proceedings, it is expected that Judge Wolfson will schedule a series of early bellwether trials, which are designed to help gauge how juries may respond to certain evidence and testimony that will be repeated throughout the cases. Following the bellwether process, if the parties fail to reach talcum powder settlements or otherwise resolve the litigation, hundreds of individual trials may be set for trial in separate courts nationwide.
Karen

February 22, 2017 at 12:49 am

I lost my mother to Ovarian Cancer 11 years ago. She used both baby powder and Showed to Shower her whole life. When I looked into this I was told, more than once that she did not qualify because she had just turned 80. Why is age an issue, and why are these products still being sold? I would love an answer.
"*" indicates required fields