Maine Residents Warned Not To Eat Deer Near PFAS Contamination Site
December 10, 2021
By: Irvin Jackson
The presence of high levels of toxic PFAS chemicals has led the state of Maine to warn residents not to eat deer taken from certain parts of the state near known contamination sites.
Late last month, the Maine Department of Inland Fisheries and Wildlife (MDIFW) and the Maine Center for Disease Control and Prevention (Maine CDC) issued a "do not eat" advisory for deer harvested in the Fairfield area, warning that they appear to be contaminated with high amounts of chemicals used in firefighter foam and other products.
According to state officials, the MDIFW evaluated eight deer harvested near several farm fields, which is known to be a PFAS contamination site in the Fairfield area. Five of the eight deer had levels of PFAS so high that health officials say no one should eat meat from deer in that area in more than two or three meals per year. The three other deer, which were taken two miles further away from the area, still had detectable PFAS levels, but those levels were still high enough that the state recommends eating less than one meal per week made from their meat.
This discovery led the MDIFW and Maine CDC to place a do not eat advisory for all deer in the areas around the Fairfield sites.
"Recent testing of deer harvested in the area show elevated levels of PFAS in both the meat and the liver of the deer," MDIFW Commissioner Judy Camuso said in the advisory. "We take the elevated levels seriously and advise people not to eat deer that were harvested in these areas."
State officials report the Fairfield farm areas became contaminated with high levels of PFAS through the use of municipal and industrial sludge as fertilizer. The contamination of the fields was first discovered through the testing of milk samples and also includes area wells and water supplies.
The state defines the affected area as beginning at the Carter Memorial Bridge in Waterville, where Route 137 crosses the Kennebec River, past Waterville and Skowhegan, up to the Eugene Cole Bridge in Mirridgewock; south along Route 8 into Smithfield to the intersection of Routes 8 and 137. The area then proceeds south on Route 137 until it crosses the Kennebec River on the Carter Memorial Bridge.
A map of the affected area is available at https://www.maine.gov/ifw/docs/FairfieldAdvisoryArea.pdf.
Hunters who have already harvested deer in the area are being advised to dispose of them in the trash or a landfill, and says those hunters who harvested deer in that area can take an additional deer in the 2022 hunting season.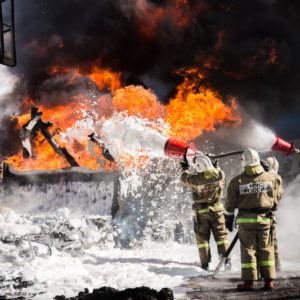 PFAS were first introduced into the manufacturing industry in the 1940's, because of their ability to resist heat, grease, stains, and water. However, since then the chemicals have been linked to a myriad of adverse health effects including liver damage, thyroid disease, decreased fertility, high cholesterol, obesity, hormone suppression, and cancer.
The chemical substances are used to manufacture a number of products, including some food packaging materials, pizza boxes, popcorn bags, fabrics, nonstick cooking pans, and other products.  However, it is perhaps most known for its use in firefighting through the use of aqueous film-forming foams (AFFFs) used by military and civilian firefighters.
In July, Maine put in place a ban on PFAS which will go into effect by 2030. In addition to Maine, New York set guidelines in January which set limits on allowable concentrations on some PFAS chemicals. Additionally, also in July, two U.S. Senators introduced a bill which would ban the use of PFAS in cosmetics.
The EPA is expected to finalize new PFAS reporting requirements involving 20 different compounds for manufacturers before the end of the year.
Chemical manufacturers now face a growing number of firefighting foam lawsuits brought by nationwide, including individuals diagnosed with with cancer after exposure to the chemicals in their drinking water, as well as firefighters directly exposed during training and response exercises.
"*" indicates required fields