Maine Bans Use of PFAS Chemicals Used In Firefighter Foam and Other Products By 2030
July 23, 2021
By: Irvin Jackson
Last week, Maine became the first state in the U.S. to enact a wide-ranging ban on toxic per- and polyfluoroalkyl substances (PFAS), which have been linked to wide-spread water contamination following use in firefighting foam and other products, eliminating use of the chemicals in the state by 2030.
The state enacted "An Act To Stop Perfluoroalkyl and Polyfluoroalkyl Substances Pollution" (LD 1503) on July 15, after it was passed without Governor Janet Mills' signature, due to its designation as an emergency measure.
PFAS were first introduced into the manufacturing industry in the 1940's, because of their ability to resist heat, grease, stains, and water. However, since then the chemicals have been linked to a myriad of adverse health effects including liver damage, thyroid disease, decreased fertility, high cholesterol, obesity, hormone suppression, and cancer.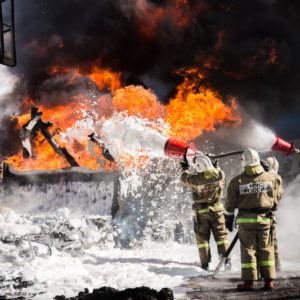 The chemical substances are used to manufacture a number of products, including some food packaging materials, pizza boxes, popcorn bags, fabrics, nonstick cooking pans, and other products.  However, it is perhaps most known for its use in firefighting foams used by military and civilian firefighters.
According to Maine's law, believed to be the first of its kind not only in the U.S., but in the world, as of January 1, 2030, no one in the state "may sell, offer for sale or distribute for sale" any products where PFAS chemicals were intentionally added, unless they can qualify for "unavoidable use" designations. In addition, by 2023, manufacturers must report to state regulators any products that contain PFAS which are to be sold in the state.
The bill was sponsored by state House Representative Lori Gramlich, a Democrat.
"We know these toxic chemicals have serious, lasting health and environmental impacts," Gramlich said in a press release on May 12, when the law, then a bill, was passed unanimously by the Maine House's Environmental and Natural Resources Committee. "It is imperative that we act, both by eliminating sources of exposure and contamination and by cleaning up the chemicals that have already accumulated in our drinking water and soil."
The American Chemistry Council, which lobbies for the chemical manufacturing industry, claims the ban will eventually be seen as a mistake.
"Unfortunately, as written, this misguided law will eventually ban thousands of products that Maine families and businesses rely on without providing meaningful impact on public health," the group said in a statement after the law's passage. "It will impact every major industry in Maine, including forest products, healthcare, textiles, electronics, and construction. In fact, it undermines effective product design, and in some cases, product safety and efficacy, including for applications that are important for public safety and public health."
It is projected to take thousands of years for PFAS chemicals to degrade, and past studies have shown their ability to enter and stay in the environment and human body through the air, dust, food, soil, and water. Previous U.S. Centers for Disease Control and Prevention studies have shown PFAS chemicals primarily settle into the blood, kidney and liver, and could likely be detected in the blood of 98% of the U.S. population.
In addition to Maine, New York set guidelines in January which set limits on allowable concentrations on some PFAS chemicals. Additionally, last month, two U.S. Senators introduced a bill which would ban the use of PFAS in cosmetics.
Chemical manufacturers now face a growing number of firefighting foam lawsuits brought by nationwide, including individuals diagnosed with with cancer after exposure to the chemicals in their drinking water, as well as firefighters directly exposed during training and response exercises.
"*" indicates required fields