U.S. Military to Switch to PFAS-Free Firefighting Foam
September 27, 2022
By: Irvin Jackson
Amid rising concerns about wide-spread water contamination and health risks from firefighting foam products, the U.S. Department of Defense indicates it will transition away from use of aqueous film-forming foam (AFFF) products that contain per- and polyfluoroalkyl substances (PFAS), also known as "forever chemicals."
The National Defense Authorization Act of 2020 requires the Defense Department to ensure PFAS-free foams are available for use at its installations nationwide in just over a year, by October 2023.
According to a Government Accountability Office report last year, the defense department has identified six potential PFAS-free foam candidates for potential use, but has yet to find or manufacture a product which fully meets current performance requirements.
PFAS Firefighting Foam Health Concerns
PFAS chemicals were first introduced into the manufacturing industry in the 1940's, because of their ability to resist heat, grease, stains, and water. For these reasons, they have become widely used in a vast amount of consumer products, including food packaging materials, pizza boxes, popcorn bags, fabrics, nonstick cooking pans, and large volumes of the chemicals have been used in aqueous film-forming foam (AFFF) used by the military and civilian fire companies to combat fuel-based fires.
Since the chemicals do not break down naturally, they have contaminated water supplies in communities nationwide, especially near military bases, airports, military bases and other fire training facilities, where large volumes of PFAS entered water from the use of AFFF products.
Exposure to PFAS chemicals in water have been linked to a number adverse health effects including liver damage, thyroid disease, decreased fertility, high cholesterol, obesity, hormone suppression, and several types of cancer.
Manufacturers of the chemicals now face a number of PFAS water contamination lawsuits brought by individuals who indicate that they developed pancreatic cancer, liver cancer, bladder cancer, testicular cancer, kidney cancer or ulcerative colitis after years of drinking tap water known to contain the chemicals. In addition, a number of firefighter cancer lawsuits are being pursued by individuals who came into direct contact with AFFF during fire training or response exercises both on military installations and civilian firefighting organizations.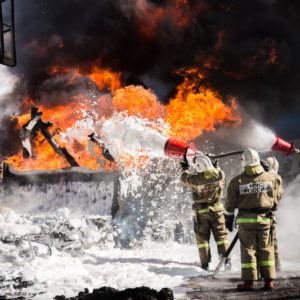 According to a Bloomberg News report published this month, the Department of Defense will reveal specifications for PFAS-free firefighting foam replacements, and all new aqueous film-forming foam (AFFF) used by the military must meet those specifications by October 2023. A year later, the Department of Defense is required to stop using all PFAS-based foam.
The law allows use of PFAS-containing foam onboard ships at sea even after that date, until a PFAS-free substitute can be found that meets the more stringent specifications needed in those situations.
October 2022 PFAS Firefighting Foam Lawsuit Update
There are currently about 3,000 product liability lawsuits over PFAS firefighting foam pending in the federal court system against 3M Company, DuPont, Tyco Fire Products, Buckeye Fire Equipment Company, Kidde-Fenwal and other manufacturers, each involving similar allegations that the companies failed to warn about the long-term health risks from exposure to the chemicals.
Given common questions of fact and law presented in the PFAS firefighting foam lawsuits, centralized pretrial proceedings have been established in the U.S. District Court for the District of South Carolina, where one judge is presiding over coordinated discovery and a series of early trial dates to help gauge how juries are likely to respond to certain evidence and testimony that will be repeated throughout the litigation.
In addition to firefighter lawsuits over the PFAS cancer risk, the litigation also includes a number of complaints brought by local water suppliers over the costs associated with removing PFAS chemicals from their water systems. The first bellwether trial will be a firefighting foam water contamination lawsuits selected in 2022, which will go before a jury in 2023.
While the outcome of the first trials will not be binding on firefighters or other plaintiffs, they will be closely watched and may influence future settlement negotiations over the PFAS cancer risks. As of October 2022, it is not too late to find out if you or a loved one are eligible to pursue a PFAS firefighting foam lawsuit.
Latest Firefighting Foam Lawsuit Updates
Learn more about the status of PFAS firefighting foam lawsuits being pursued throughout the federal court system, and criteria for claims still being reviewed by lawyers.
2022 Firefighting Foam Lawsuit Updates
"*" indicates required fields