Monsanto Concealed Risks Of Non-Hodgkin's Lymphoma from Roundup, Lawsuit Alleges
March 05, 2018
By: Irvin Jackson
A Mississippi man who developed non-Hodgkins lymphoma following years of Roundup use alleges that he may have avoided the cancer diagnosis if Monsanto had not withheld important information about the risks associated with exposure to their controversial weed killer.
In a complaint (PDF) filed last month in the U.S. District Court for the Eastern District of Missouri, Harry C. Sharp indicates that through affirmative misrepresentations and omissions, Monsanto concealed Roundup non-Hodgkins lymphoma risks from consumers.
Sharp begin using Roundup in about 1976, spraying the glyphosate-based herbicide on a regular basis. Although he followed all safety and precautionary warnings, Sharp maintains that he was unaware, and could not have learned through reasonable diligence, that contact with Roundup may cause him to develop non-Hodgkins lymphoma (NHL).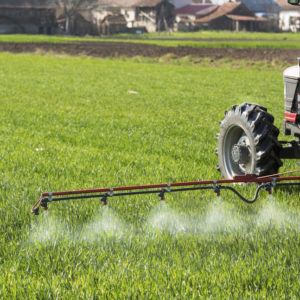 "Despite Defendant's knowledge that Roundup was associated with an elevated risk of developing cancer, Defendant's promotional campaigns focused on Roundup's purported 'safety profile'," Sharp's lawsuit states. "Defendant's failure to adequately warn Plaintiff resulted in (1) Plaintiff using and being exposed to glyphosate instead of using another acceptable and safe method of controlling unwanted weeds and pests; and (2) scientists and physicians failing to warn and instruct consumers about the risk of cancer, including NHL, and other injuries associated with Roundup."
The case joins hundreds of similar Roundup lawsuits brought on behalf of individuals nationwide in recent years, each raising similar allegations that the weed killer and it's active ingredient, glyphosate, resulted in a diagnosis of non-Hodgkins lymphoma or another cancer.
Concerns about the link between Roundup and cancer first gained widespread recognition in 2015, when the World Health Organization's International Agency for Research on Cancer (IARC) classified glyphosate contained in the weedkiller as a probable human carcinogen. However, Monsanto has continued to dismiss the findings, maintaining that their weedkiller is safe and does not cause cancer.
A growing body of independent research has raised concerns about why Monsanto has failed to provide warnings and recommend safety precautions for users of Roundup, which may have reduced contact with the weedkiller and the risk of non-Hodgkins lymphoma.
As part of the on-going litigation, internal Monsanto documents produced during the discovery process have suggested that the manufacturer knew about the cancer risks associated with Roundup active ingredients for years.
Given similar questions of fact and law raised by individuals nationwide, the federal cases are consolidated as part of a multidistrict litigation (MDL) before U.S. District Judge Vince Chhabria in the Northern District of California, where the pretrial proceedings have been bifurcated, first addressing general causation about the link between Roundup and non-Hodgkins lymphoma, before addressing case-specific issues about whether the weedkiller caused each individual plaintiffs' diagnosis.
Following resolution of any motions to dismiss based on general causation, if a Roundup settlements or another resolution for the litigation is not reached during the first phase of discovery, it is expected that Judge Chhabria will establish a bellwether process, where a small group of cases will be prepared for early trial dates to help gauge how juries may respond to certain evidence and testimony that is likely to be repeated throughout the lawsuits.
ralph a

March 11, 2019 at 2:35 am

Every sentence has been debated several times and Chhabria is not a listener and a pay attentioner so your words are not considered , so a comment about what specific question is requested ?
"*" indicates required fields