Monsanto Dicamba Lawsuit Claims Herbicide Caused Widespread Damage To Crops
September 19, 2017
By: Irvin Jackson
An Illinois farmer has filed a lawsuit against Monsanto and BASF, claiming that the herbicide dicamba caused widespread destruction to his crops. 
The complaint (PDF), was filed last week by Brian Warren, of Warren Farms, in the U.S. District Court for the Southern District of Illinois.
Warren indicates that use of dicamba-based herbicides by other farmers nearby damaged his crops this summer, causing a loss of yield.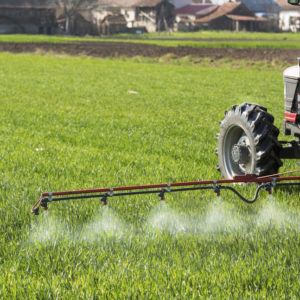 The dicambi lawsuit indicates that Warren noticed cupping, curling, strapping, discoloration, stunting and other damage across hundreds of acres of soybeans and pumpkins in June and July. The damage is attributed to a number of dicamba-based herbicides popular with nearby farmers, according to the complaint.
"Numerous farmers within the vicinity of plaintiff purchased and planted seed for Xtend variety soybean and cotton, and applied Xtendimax, Engenia, and Fexapan to their Xtend variety crops," the lawsuit states. "Xtendimax, Engenia, and Fexapan moved off target from application sites and onto plaintiff's crops and property after applications made in the manner intended by, and reasonably anticipated by, Monsanto, BASF, and Dupont, due to the inherent characteristics of the herbicides. As a result, plaintiffs' crops were exposed to dicamba, suffered significant injuries, and sustained a loss of yield."
Dicamba is a synthetic herbicide, which has been used for years by farmers nationwide to control weeds. However, it was only used during certain times of year.
A growing number of lawsuits filed in recent months indicate that Monsanto and BASF marketed a new type of dicamba-tolerant crop, which was designed to allow farmers to use Engenia and similar herbicides for over-the-top use (on crops emerging from the ground) for the first time in 2016.
A dicamba class action lawsuit filed in August claims that Monsanto rushed the system and either withheld or concealed information from regulatory authorities about the volatility of Engenia, and marketed dicamba-tolerant crops without approval from regulators. The complaint alleges that the manufacturer knew the use of the herbicide would endanger other nearby crops.
Farmers in affected states, particularly Kansas, have suffered millions of dollars in crop damage when Engenia drifted onto neighboring, sensitive crops in the 2017 growing season, according to the Engenia class action.
Warren's lawsuit claims that Monsanto has put farmer's in an untenable position: Either purchase dicamba-ready crops from them, or risk having your crops devastated by your neighbors' use of dicamba-based products.
"This vicious and self-reinforcing cycle is a crucial aspect of the Defendants' scheme to dominate farmers and monopolize the seed and herbicide markets," the lawsuit states.
"*" indicates required fields