Monsanto Roundup Lawsuit Alleges Non-Hodgkin's Lymphoma Diagnosis Caused by Exposure
March 03, 2016
By: Irvin Jackson
A farm worker diagnosed with non-Hodgkin lymphoma following Roundup exposure has filed a product liability lawsuit against Monsanto, alleging that the multinational agricultural biotechnology corporation withheld information about the cancer risks associated with their popular herbicide.
The complaint (PDF) was filed by Aaron Johnson in the U.S. District Court of Hawaii on February 19, indicating that he was expose to the glyphosate-based herbicide while working on a Macadamia farm in the state and while clearing land.
Johnson indicates that he was diagnosed with non-Hodgkin lymphoma in January 2014, after years of mixing and applying Roundup to and around crops. As a result of the cancer allegedly caused by side effects of Roundup, Johnson has since had to undergo harsh radiation and chemotherapy, maintaining that his life has been irreversibly altered.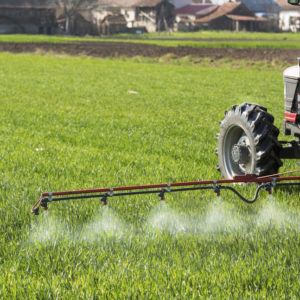 "For nearly 40 years, farms across the world have used Roundup without knowing of the dangers its use poses," the lawsuit filed by Johnson states. "That is because when Monsanto first introduced Roundup, it touted glyphosate as a technological breakthrough: it could kill almost every weed without causing harm either to people or to the environment. Of course, history has shown that not to be true."
In March 2015, the International Agency for Research on Cancer (IARC), an arm of the World Health Organization (WHO), warned that glyphosate probably causes cancer in humans, raising questions about the safety of Monsanto's widely used Roundup weedkiller. The IARC specifically noted that non-Hodgkin lymphoma is a form of cancer that may be connected to Roundup and other glyphosate-based weedkillers.
The case is one of a growing number of Monsanto Roundup lawsuits filed in recent months by individuals throughout the U.S. who were heavily and regularly exposed to glyphosate contained in the popular weedkiller as farm workers, landscapers, gardeners or others in the agricultural business.
Plaintiffs allege that Monsanto knew or should have known for decades about the Roundup cancer risks, yet failed to warn consumers about the risks and the importance of taking precautions while using the weedkiller.
Roundup is one of the most widely used herbicides containing glyphosate, which was first introduced by Monsanto in the 1970s.
A recent U.S. Geological Survey on glyphosate usage nationwide found that an estimated 2.6 billion pounds of the herbicide has been sprayed on America's agricultural land over the two decades since the mid-1990s, when Monsanto introduced "Roundup Ready" crops that are designed to survive being sprayed with glyphosate, killing the weeds but not the crops.
As Roundup injury lawyers continue to review and file cases for individuals throughout the U.S. who have been diagnosed with non-Hodgkin's lymphoma or other forms of cancer, it is ultimately expected that Monsanto will face several thousand complaints in courts throughout the U.S.
"*" indicates required fields