NEC Lawsuits Over Similac and Enfamil Centralized Together in Federal Multidistrict Litigation (MDL)
April 11, 2022
By: Irvin Jackson
A panel of federal judges has decided to consolidate all necrotizing enterocolitis (NEC) lawsuits over Similac and Enfamil filed throughout the federal court system, centralizing pretrial proceedings for claims brought by families of pre-term infants left with devastating and often fatal injuries after being fed the cow's milk formula products.
Similac and Enfamil are two popular brands of infant formula, which have been widely used in recent years by doctors and hospitals for premature babies in the NICU. However, increasing research has found that the cow's milk products greatly increase the risk of preemies developing NEC; an intestinal disorder that results in a painful destruction of the bowel, often resulting in emergency surgery or infant death.
Dozens of families are now pursuing a Similac NEC lawsuit or Enfamil NEC lawsuit against Abbott Laboratories and Mead Johnson, alleging the manufacturers have known for years about the risks associated with use of their products among premature infants, with many cases involving babies that were fed both products while still in the NICU after birth.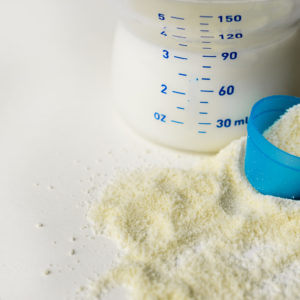 In January, Abbott Laboratories filed a motion to create a Similac MDL for all claims brought throughout the federal court system involving their products, indicating the cases should be consolidated before U.S. District Judge Stefan R. Underhill in the District of Connecticut for coordinated discovery and pretrial proceedings.
A few weeks later, Mead Johnson joined in the request and indicated all Similac and Enfamil lawsuits should be centralized before the same judge, since the claims all involve common questions of scientific fact and law.
Dozens of plaintiffs also filed responses in support of the motion, but proposed a variety of other venues and judges which may be more appropriate for the coordinated management of the growing litigation.
On April 8, after hearing oral arguments in late March, the U.S. Judicial Panel on Multidistrict Litigation (JPML) issued an order (PDF) establishing a federal multidistrict litigation (MDL) for the NEC lawsuits over Similac and Enfamil, transferring all claims to U.S. District Judge Rebecca R. Pallmeyer in the Northern District of Illinois, which was one of the venues proposed by plaintiffs.
"After considering the argument of counsel, we find that centralization of these actions in the Northern District of Illinois will serve the convenience of the parties and witnesses and promote the just and efficient conduct of the litigation," the JPML stated in the transfer order. "All actions can be expected to share factual questions arising from allegations that cow's milk-based infant formula products marketed under the Similac and Enfamil brand names have a higher propensity to cause necrotizing enterocolitis (NEC) in infants born prematurely than other, allegedly safer alternatives."
The JPML noted that 16 actions were currently pending in seven different federal districts, and there are another 20 potentially-related cases filed across eight districts. However, as NEC injury lawyers continue to review and file claims in the coming months and years, the size of the litigation is expected to increase significantly.
Now that the JPML has established a Similac and Enfamil NEC MDL, cases filed in U.S. District Courts nationwide will be transferred to Northern Illinois for management, where Judge Pallmeyer is expected to call for a series of early "bellwether" trials designed to help gauge how juries are likely to respond to certain evidence that will be repeated throughout the litigation. However, if NEC settlements or another resolution for is not reached following the MDL proceedings, each individual Similac and Enfamil case may later be returned to the U.S. District Court where it was originally filed for a separate trial in the future.
"*" indicates required fields