Roundup Cancer Warning Leads U.S. Lawmakers To Question IARC Funding
October 07, 2016
By: Irvin Jackson
Amid continuing worldwide debate over the link between exposure to Roundup and cancer, the National Institutes of Health (NIH) is being asked to defend its rationale for providing grants and other funding to an international group of health experts, which warned last year that glyphosate, the active ingredient in the popular weedkiller, is a likely carcinogen. 
U.S. Representative Jason Chaffetz, chair of the Committee on Oversight and Government Reform, sent a letter to NIH Director Francis Collins (PDF) on September 26, calling for more information about the institutes' financial support for the World Health Organization's (WHO) International Agency for Research on Cancer (IARC), which works to coordinate research on the causes of human cancers and works to develop scientific strategies for cancer control.
In the letter, Chaffetz accused the IARC of making determinations about what substances could cause cancer that "appear inconsistent with other scientific research, and have generated much controversy and alarm."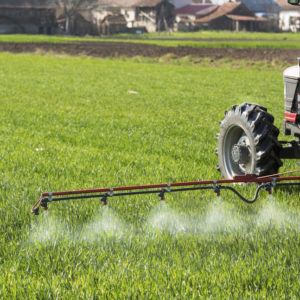 The IARC caused worldwide concern and debate after it issued a Roundup cancer warning in March 2015, classifying glyphosate as a "probable" cancer-causing agent. This has led to debate within the scientific and regulatory communities, as Roundup is a widely used weedkiller and many farmers, landscapers, roadside workers and others are regularly exposed to glyphosate due to the widespread believe that it is not toxic to humans.
Chaffetz indicated that the IARC's standards and determinations for classifying substances as carcinogenic may be inconsistent with other scientific research, causing controversy and alarm. He also questioned claims the IARC has made about the potential carcinogenic effects of coffee and processed meat.
Monsanto has launched a worldwide campaign in defense of their popular weedkiller, dismissing the IARC's findings and continuing to maintain that Roundup is safe. In addition, the U.S. Environmental Protection Agency (EPA) and the European Food Safety Authority (EFSA) have both recently indicated that their research has not found a clear indication that glyphosate is likely to cause cancer.
The letter notes that NIH has given the IARC $1.2 million this year, and several million since 1992. Chaffetz is calling for a private briefing from NIH officials on its process for awarding grants to IARC and other organizations. He is also asking for all correspondence between the NIH and IARC and a list of all of the funding transactions between the two organizations.
This is the second time a federal agency has been questioned by Republican lawmakers about ties to IARC. In June, Rep. Lamar Smith, Chairman of the U.S. House, Science, Space and Technology Committee, sent a letter to the EPA questioning whether the agency's scientists, some of whom have worked with the IARC, had a hand in its glyphosate decision.
Despite criticism from some in the regulatory community, which have approved glyphosate for years, a number of independent scientists and countries have backed the IARC's findings, indicating that the warnings about Roundup cancer risks were justified.
In June, days after Smith's letter, a group of independent scientists led by Congressman Ted Lieu of California met with EPA officials and members of the U.S. Congress and called for a Roundup ban in the U.S., citing numerous health and environmental risks.
A number of European countries have also taken the IARC's findings to heart, issuing a number of bans and restrictions on the use of Roundup and other herbicides containing glyphosate. Another group of international scientists also refuted the EFSA's findings and methodology in declaring glyphosate unlikely to be a cancer-causing agent.
The EPA has announced that it will hold public hearings on glyphosate risks on October 18-21 in Arlington, Virginia.
Roundup Cancer Lawsuits
As debate continues within the medical and regulatory communities over the health risks associated with glyphosate, Monsanto now faces a growing number of Roundup cancer lawsuits filed throughout the United States, typically involving individuals diagnosed with a form of non-Hodgkin's lymphoma following heavy exposure to the herbicide as a farm or agricultural worker.
The complaints allege that the manufacturer recklessly promoted Roundup and pushed greater and greater use of the chemical, without disclosing the potential health risks or warning about the importance of safety measures that may have reduced exposure to the chemical.
A recent U.S. Geological Survey on glyphosate usage nationwide found that an estimated 2.6 billion pounds of the herbicide has been sprayed on America's agricultural land over the two decades since the mid-1990s, when Monsanto introduced "Roundup Ready" crops that are designed to survive being sprayed with glyphosate, killing the weeds but not the crops.
The lawsuits over Roundup allege that plaintiffs may have avoided a diagnosis of non-Hodgkin's lymphoma or other cancers if they had been warned about the Roundup risks for farmers, landscapers and others in the agricultural industry, as safety precautions could have been taken or other products could have been used to control the growth of weeds.
On October 4, a panel of federal judges centralized all Roundup cancer lawsuits filed in U.S. federal courts before U.S. District Judge Vince Chhabria in the Northern District of California for pretrial proceedings.
As part of the coordinated pretrial proceedings, it is expected that Judge Chhabria will establish a bellwether process, where a small group of cases will be scheduled for early trial dates to help gauge how juries may respond to certain evidence and testimony that is likely to be repeated throughout the litigation If Roundup non-Hodgkins lymphoma settlements are not reached following the coordinated MDL proceedings, each case may ultimately be remanded back to the U.S. District Court where it was originally filed for an individual trial date in the future.
"*" indicates required fields