New York Reaches $104M Consent Decree in Water Contamination Lawsuit Against Northrop Grumman
July 18, 2022
By: Irvin Jackson
The state of New York and Northrop Grumman have agreed on a consent decree to clean up water contamination linked to a former facility in Bethpage, after the state filed a toxic tort lawsuit against the aerospace technologies manufacturer.
The settlement was announced this weekend, after the state filed a complaint (PDF) against the manufacturer in the U.S. District Court for the Eastern District of New York on July 13. The lawsuit was filed by the state,
According to a press release issued by New York Attorney General Letitia James and New York Governor Kathy Hochul, the consent decree includes a deal which would see Northrop Grumman pay the state $104 million to clean up what is known as the Bethpage plume, which is the largest groundwater contamination site in the Long Island area.
The plume has caused trichloroethylene and 1,4 dioxane  contamination of drinking water supplies in the Bethpage and South Farmingdale water districts and stretches for four miles. The agreement, which must be approved by a federal judge, would require the company to come up with a way to stop the plume from spreading further.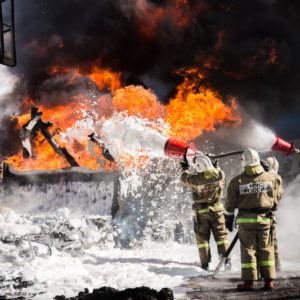 "Every New Yorker deserves access to safe, clean water, and we will continue to advance bold, aggressive efforts to protect our environment and ensure it is free of contamination," Governor Hochul said in the press release. "With this historic agreement, we are delivering justice to Long Island communities that for too long have been negatively impacted by the groundwater plume, while holding polluters accountable for their actions."
The agreement would see Northrop Grumman reimburse the state for cleanup costs, create a citizen participation working group to provide better information to the public, and includes a five-year schedule during which Grumman must complete all the goals outlined in the agreement.
The U.S. Navy is also partly responsible for the contamination, according to the press release, and has already agreed to assist in certain parts of the cleanup operations.
PFAS Lawsuits Over Water Contamination
The contamination problems are similar to those caused by similar releases of per- and polyfluoroalkyl (PFAS) chemicals from other military bases and production facilities. Amid medical evidence linking the chemicals to a myriad of side effects, even at low levels of exposure, a number of PFAS water contamination lawsuits are now being filed by individuals diagnosed with cancer or ulcerative colitis after years of drinking tainted tap water.
The complaints allege that chemical manufacturers covered up evidence of PFAS health risks for years, and knew or should have known that individuals could develop serious injuries after exposure to PFAS chemicals in the local tap water, which builds up over time when the chemicals are improperly dumped or naturally run-off from use in firefighting foams.
As of October 2021, the Environmental Working Group (EWG) has identified 2,854 locations in the U.S. that have confirmed PFAS water contamination in public and private systems. Of those, nearly 400 military installations have been confirmed to have ground water contaminated with PFAS, while contamination is suspected, but not yet confirmed, at hundreds of others.
As a result of the findings, other states have also begun filing PFAS lawsuits against manufacturers in recent years over contaminating drinking water sources. Each of the claims have raised similar allegations that manufacturers have released the toxic chemicals into the local water supply, damaging the state's natural resources, leading to a public health crisis and costly remediation efforts.
Jack

March 28, 2023 at 4:53 pm

So that's why it tasted sweet on some days and tarty on others..
"*" indicates required fields