Ovarian Cancer Lawsuit Filed By Woman Who Used Talcum Powder Over Four Decades
April 01, 2016
By: Irvin Jackson
According to allegations raised in a product liability lawsuit recently filed against Johnson & Johnson, side effects of talcum powder use over a period of four decades caused a Maryland woman to develop ovarian cancer.
The complaint (PDF) was filed by 49 year-old Norma Slampa in the U.S. District Court for the District of Maryland on March 24, indicating that women have not been adequately warned about the ovarian cancer risk linked to Johnson's Baby Powder when it is used for feminine hygiene purposes.
Slampa states that she applied the talc-based powder around her genital area after every shower for more than four decades, just as Johnson & Johnson intended with their multi-generational marketing strategy that was introduced in the 1950s, to expand sales of Johnson's Baby Powder beyond use as a diaper rash treatment.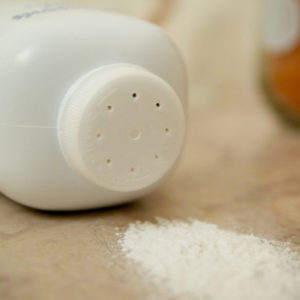 In September 2014, Slampa was diagnosed with Stage IV ovarian cancer, claiming that the talc contained in the popular Baby Powder traveled through the vaginal tract and into the pelvic cavity, where it increased her risk of developing the cancer.
The lawsuit is one of a growing number of similar cases filed by women nationwide who regularly and consistently used Johnson's Baby Powder or Shower-to-Shower body powder, including many ovarian cancer wrongful death lawsuits brought by surviving family members.
The complaints raise similar allegations that Johnson & Johnson has known about the potential risk since at least 1982, yet not only failed to warn women, but encouraged women to use talcum powder in underwear and around the genitals for "personal freshness."
"Plaintiff, Norma Slampa, is one of the untold numbers of women who became victims of Johnson & Johnson's marketing strategy," the lawsuit states. "Just as Johnson & Johnson intended, Ms. Slampa learned from her mother to use Johnson & Johnson after every shower, and that is exactly what she did. She kept a bottle in her bathroom and another in her gym bag at all times. Ms. Slampa used Johnson & Johnson Baby Powder daily for decades."
Johnson & Johnson was recently hit with a $72 million damage award in a similar talcum powder case filed by the family of a woman who died from ovarian cancer following years of using the company's products for feminine hygiene. The jury not only awarded compensatory damages, but added punitive damages designed to punish the manufacturer for their failure to warn about the link between talcum powder and ovarian cancer.
Internal company memos and documents presented at trial highlighted how the manufacturer knew about the risk for years, and told its own consultants that there was a connection. However, the only talcum powder warnings provided with Johnson's Baby Powder and Shower-to-Shower suggest that users only need to worry about avoiding contact with their eyes, inhaling the powder or applying to areas of broken skin.
"Johnson's strategy was undeniably successful," the lawsuit states. "Mothers used Johnson & Johnson Baby Powder on themselves and their babies and then passed this habitual use on, generation after generation."
There are currently an estimated 1,200 Johnson's Baby Powder lawsuits and Shower-to-Shower powder lawsuits pending in courts throughout the U.S. However, with lawyers continuing to review and file ovarian cancer lawsuits for women, and inadequate warnings continuing to be provided, it is expected that thousands of additional claims will ultimately be filed.
If Johnson & Johnson fails to reach ovarian cancer settlements for talcum powder users, they could face a steady stream of jury trials in the coming months and years, with additional cases are expected to go before juries later this month and over the summer.
Stephanie

April 4, 2016 at 1:07 am

Oh nooo! I've used JJ baby powder since I was 14 or 15. "Down there", armpits, boobies,and feet. I always felt so fresh, how sad we were deceived.
"*" indicates required fields