Pesticide Exposure May Increase Risk Of Heart Disease: Study
October 11, 2019
By: Irvin Jackson
Side effects of long-term, occupational exposure to pesticides may significantly increase the risk of heart disease, according to the findings of a new study.
Researchers with the University of Hawaii indicate that men who worked with pesticides for more than 10 years faced a nearly 50% increased risk of cardiovascular disease, according to a report published last month in the Journal of the American Heart Association.
Following up on what was known as the Kuakini Honolulu Heart Program, which found a link between occupational exposure to pesticides and total mortality, this new study looked at data on more than 7,500 Japanese-American men who were in the program for incidence of cardiovascular disease.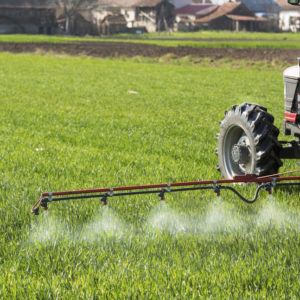 The findings indicate high levels of pesticide exposure were linked to a 46% increased risk of cardiovascular disease. Even when adjusting for other heart risks which may have been present, the men still faced a 42% increased risk of heart disease.
"These findings suggest that occupational exposure to pesticides may play a role in the development of cardiovascular diseases," the researchers concluded. "The results are novel, as the association between occupational exposure to pesticides and cardiovascular disease incidence has not been examined previously in this unique cohort."
The study reached similar conclusions to those published in June by South Korean researchers, who found that some formulations of Roundup, the glyphosate-based weed killer by Monsanto, increased the risk of heart problems and fatalities. According to those findings, certain formulations of glyphosate contained in the controversial weedkiller were linked to an increased risk of death, heart rhythm problems known as PR prolongation, and other health problems.
Hundreds of Roundup lawsuits have been filed in courts nationwide, each raising similar allegations Monsanto failed to warn about the risks associated with their widely used products, and provided misleading information about the safety of glyphosate.
Concerns began to gain worldwide attention in mid-2015, when the World Health Organization's International Agency for Research on Cancer (IARC) classified glyphosate as a probable human carcinogen.
A recent U.S. Geological Survey on glyphosate usage nationwide found that an estimated 2.6 billion pounds of the herbicide has been sprayed on America's agricultural land over the two decades since the mid-1990s, when Monsanto introduced "Roundup Ready" crops that are designed to survive being sprayed with glyphosate, killing the weeds but not the crops.
The lawsuits over Roundup allege that plaintiffs may have avoided a diagnosis of non-Hodgkin's lymphoma or other cancers if they had been warned about the Roundup risks for farmers, landscapers and others in the agricultural industry, as safety precautions could have been taken or other products could have been used to control the growth of weeds.
"*" indicates required fields