PFAS Lawsuit Claims Girl Born With Developmental And Physical Defects Due To Nearby Plastics Factories
January 29, 2021
By: Irvin Jackson
A mother and daughter have filed a product liability lawsuit against the manufacturers of poly- and perfluoralkyl substances (PFAS), alleging that exposure to the toxic chemicals from nearby plastics factories caused the child to suffer physical and developmental problems.
The complaint (PDF) was filed by Carly Corrar and her mother, Shirly Bond, in the U.S. District Court for the District of New Jersey on January 8, pursuing damages against Solvay Specialty Polymers USA, LLC, Solvay Solexis, Inc., Arkema, Inc., E.I. Du Pont De Nemours & Company, The Chemours Company, and 3M Company as defendants.
According to the lawsuit, Corrar was exposed to PFAS chemicals before birth, during her mother's pregnancy, and throughout childhood due to the family's proximity to chemical manufacturing plants owned and operated by the defendants in New Jersey, including Du Pont and Chemour's Chambers Works facility in Pennsville and Carneys Point Townships, as well as Solvay and Arkema's West Deptford Facility in West Deptford.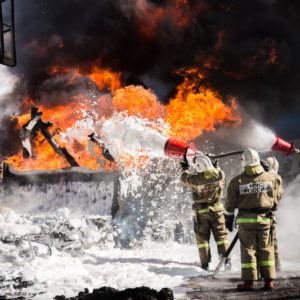 As a result of the PFAS exposures during her youth, Corrar was left with a number of physical and cognitive developmental delays, including neurological disorders which cause her to suffer an inability to control her limbs and prevent shaking. She now suffers frequent falls, which have resulted in wrist, rib, arm and knee breaks. She also suffers digestive problems such as chronic vomiting, gallstones, Barrett's esophagus and removal of her gallbladder and appendix.
Other conditions Corrar's PFAS lawsuit links to the toxic chemical exposure include Attention Deficit Hyperactivity Disorder (ADHD), and temporomandibular disorders, which have required jaw surgery and joint issues.
PFAS were first introduced into the manufacturing industry in the 1940's, because of their ability to resist heat, grease, stains, and water. However, since then the chemicals have been linked to a myriad of adverse health effects including liver damage, thyroid disease, decreased fertility, high cholesterol, obesity, hormone suppression, and cancer.
The chemical substances are used to manufacture a number of products, including some firefighting foams, food packaging materials, pizza boxes, popcorn bags, fabrics, nonstick cooking pans, and other products. The firefighting foam has been regularly used at military bases nationwide over the past decade during routine fire extinguishing exercises, and is increasingly used by civilian firefighters.
It is projected to take thousands of years for PFAS to degrade, and past studies have shown their ability to enter and stay in the environment and human body through the air, dust, food, soil, and water. Previous U.S. Centers for Disease Control and Prevention (CDC) studies have shown PFAS chemicals primarily settle into the blood, kidney and liver, and could likely be detected in the blood of 98% of the U.S. population.
Corrar's lawsuit indicates both of the facilities near where she grew up in the 1960s released "massive amounts" of PFAS-laden chemicals into the air, water and soil.
"DuPont and 3M committed acts and omissions with respect to PFAS and other toxins with actual malice and/or with a wanton and willful disregard of people who foreseeably might be harmed by those acts or omissions," the lawsuit states. "This conduct was performed with greed and in callous disregard of the public health as well as Plaintiffs' health and well-being, in order to maximize profit, avoid necessary expense, to promote sales of their products, and to reduce or eliminate their obligations to otherwise remediate or prevent the discharge of PFAS into the environment and Plaintiffs' private wells."
In addition to PFAS exposure lawsuits like Corrar's and Bond's, the manufacturers also face a growing number of  firefighting foam lawsuits brought by individuals nationwide, including former fire fighters diagnosed with cancer and individuals who lived near military bases or training facilities where chemicals from the toxic foam contaminated drinking water supplies.
"*" indicates required fields