PFAS Chemicals Found in Firefighting Foam May Increase Hypertension Risks: Study
June 21, 2022
By: Irvin Jackson
The findings of a new study raises further concerns about the long-term effects of exposure to PFAS chemicals, which have contaminated drinking water in communities nationwide following decades of use in firefighting foam and other products, indicating that the toxic "forever chemicals" may increase hypertension risks in women.
Per- and polyfluoroalkyl substances (PFAS) were first introduced into the manufacturing industry in the 1940's, because of their ability to resist heat, grease, stains, and water. However, they are known to persist in the environment and build up in the body, since they do not break down, and have been linked to a myriad of adverse health effects.
In a study published this month in the medical journal Hypertension, University of Michigan researchers warn that several compounds classified as PFAS chemicals appear to increase the risk of high blood pressure by nearly 50%.
The findings add to a growing body of research that has found individuals exposed to PFAS chemicals may be more likely to develop cancer, liver damage, thyroid disease, decreased fertility, high cholesterol, obesity, hormone suppression, and other side effects.
In recent years, it has been confirmed that drink water supplies in many communities are contaminated with PFAS chemicals, particularly around military bases, airports and other firefighter training locations where large volumes of the chemicals were released into the environment from aqueous film-forming foam (AFFF) used to combat fuel-based fires.
As a result, a number of different chemical manufacturers now face firefighting foam PFAS lawsuits brought by former firefighters diagnosed with cancer, as well as individuals residing in areas with known high levels of contamination from the use of the foam during training exercises.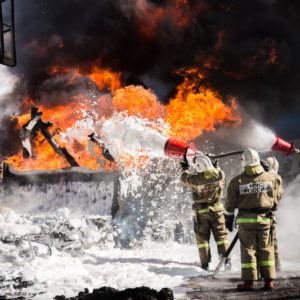 In this latest study, researchers looked at data on 1,058 midlife women who did not have hypertension, and followed up with annual visits between 1999 and 2017. Out of 11,722 person-years of follow-up, researchers found that 470 participants developed hypertension during that time period/
When researchers looked for evidence of PFAS chemicals in the women's bodies, they found that various compounds increased the risk of hypertension between 42% and 47%. Women with the highest overall PFAS concentrations had a 71% increased chance of hypertension.
"Several PFAS showed positive associations with incident hypertension," the researchers concluded. "These findings suggest that PFAS might be an underappreciated contributing factor to women's cardiovascular disease risk."
It is projected to take thousands of years for PFAS chemicals to degrade, and past studies have shown their ability to enter and stay in the environment and human body through the air, dust, food, soil, and water. As a result, PFAS chemicals are commonly referred to as "forever chemicals" that will persist in the environment for generations.
Previous U.S. Centers for Disease Control and Prevention studies have shown PFAS chemicals primarily settle into the blood, kidney and liver, and could likely be detected in the blood of 98% of the U.S. population.
"*" indicates required fields