PFAS Exposure Causing Cancer, Thyroid Disease and Childhood Obesity Linked to Billions in Healthcare Costs: Study
July 28, 2022
By: Irvin Jackson
Researchers are warning that cases of cancer, thyroid disease, childhood obesity and other medical conditions caused by PFAS exposure may cost as much as $63 billion in healthcare over the lifetime of the current U.S. population.
In a study published this week in the medical journal Exposure and Health, researchers with New York University Langone Health identified about 13 medical conditions that result from exposure to per- and polyfluoroalkyl substances (PFAS), which are man-made chemicals that have caused widespread water contamination in communities nationwide.
PFAS have been frequently used in consumer and industrial products since the 1940s, to resist grease, oil, and water. However, much of the U.S. PFAS water contamination problems have resulted from use of the chemicals in firefighting foam, which has been used to combat fuel-fuel based fires, dumping large levels of the chemicals into water supplies around military bases, airports and other training locations.
As a result of the harmful effects of PFAS exposure, manufacturers of the chemicals face hundreds of firefighting foam cancer lawsuits brought by former users who often became covered in the foam, alleging that they were not adequately warned about the health risks. In addition, a growing number individuals living in areas with high levels confirmed in the water are now pursuing PFAS exposure lawsuits over the development of ulcerative colitis, pancreatic cancer, liver cancer, bladder cancer, testicular cancer, kidney cancer and other injuries.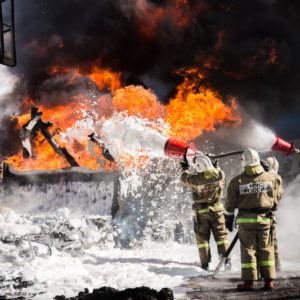 In this latest study, researchers looked at data on about 5,000 Americans diagnosed with 13 medical conditions that could be caused by PFAS exposure, including diabetes, endometriosis, infertility, low birth weight, childhood and adult obesity, breast cancer and other ailments.
They determined that these ailments, when caused specifically by PFAS exposure will cost the U.S. health care system a minimum of $5.5 billion during the current population's lifetime, up to as much as $63 billion.
"Our findings add to the substantial and still-mounting body of evidence suggesting that exposure to PFAS is harming our health and undermining the economy," study co-author Dr. Linda Kahn said in a press release.
PFAS Water Contamination Lawsuits
Amid medical evidence linking the chemicals to a myriad of side effects, even at low levels of exposure, water contamination lawsuits over PFAS exposure are now being filed by individuals diagnosed with cancer or ulcerative colitis after years of drinking tainted tap water.
The complaints allege that chemical manufacturers covered up evidence of PFAS health risks for years, and knew or should have known that individuals could develop serious injuries after exposure to PFAS chemicals in the local tap water, which builds up over time when the chemicals are improperly dumped or naturally run-off from use in firefighting foams.
As of October 2021, the Environmental Working Group (EWG) has identified 2,854 locations in the U.S. that have confirmed PFAS water contamination in public and private systems. Of those, nearly 400 military installations have been confirmed to have ground water contaminated with PFAS, while contamination is suspected, but not yet confirmed, at hundreds of others.
As a result of the findings, many states have begun filing PFAS lawsuits against manufacturers in recent years over contaminating drinking water sources. Each of the claims have raised similar allegations that manufacturers such as 3M, Dupont and others have released the toxic chemicals into the local water supply, damaging the state's natural resources, leading to a public health crisis and costly remediation efforts.
"*" indicates required fields