PFAS Exposure May Reduce Liver Function, Study Warns
March 25, 2022
By: Irvin Jackson
Exposure to per- and poly-fluoroalkyl substances (PFAS) is known to increase the risk of cancer, but the findings of a new study suggest that the toxic chemicals that have widely contaminated U.S. water supply and built up in the environment can also cause a reduction in liver function.
PFAS were first introduced into the manufacturing industry in the 1940's, because of their ability to resist heat, grease, stains, and water. While the chemical are found in a wide variety of products, including some food packaging materials, pizza boxes, popcorn bags, fabrics, nonstick cooking pans, and other products, most of the concerns have focused on high volumes of the PFAS chemicals that entered drinking water supplies from aqueous film-forming foams (AFFFs) widely used near airports, military bases and firefighting training centers.
The chemicals are often referred to as "forever chemicals", since they are known to persist in the environment and body for long periods of time, increasing the long-term risk of cancer. However, now Chinese researchers say PFAS exposure can also lead to reduced liver function, according to the findings of a study published in the upcoming May 2022 issue of Environmental International.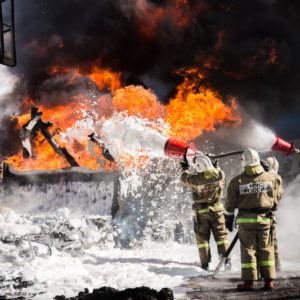 Learn More About
Exposure to firefighting foam chemicals may result in an increased risk of cancer for firefighters, military and airport personnel.
Learn More About this Lawsuit
The researchers used participants from community health service centers in three municipal districts in China from November 2018 to August 2019, collecting survey data, health examination data and blood collection from 1,524 participants, looking for various chemical exposures and liver function.
According to the findings, various PFAS compounds appeared to increase the risk of liver function deficiencies as high as 14% in some cases. However, one PFAS compound in particular, perflurohexanoic acid (PFHxA) was linked to a 33% increased risk of decreased liver function. It is often used as a stain-resistant finish on furniture and furnishings, as well as used in coating carpets, fabrics and is used in some insecticides.
The researchers noted their findings were consistent with the results of some previous studies involving animals.
"Our findings add epidemiological evidence for the potential subclinical hepatotoxicity of PFAS," the researchers concluded. "More studies are needed to confirm our findings and address potential toxicological mechanisms."
The findings come amid  a growing number of cases involved in PFAS litigation throughout the United States. Most of the claims involve firefighter lawsuits brought by individuals diagnosed with cancer after regular exposure to the chemicals in AFFF, during fire training and response exercises.
"*" indicates required fields