PFAS Liability Concerns Raised by Utilities After Proposal to Place Contaminated Sites Under Superfund Program
May 31, 2022
By: Irvin Jackson
Some utilities are expressing concerns over plans by federal environmental regulators to place sites contaminated by toxic per- and polyfluoralkyl substances (PFAS), which have tainted water supplies following decades of use in firefighting foam and other products, under the Superfund Program, which could increase their exposure to liability.
In October 2021, the Biden Administration and U.S. Environmental Protection Agency (EPA) Administrator Michael S. Regan announced a strategic roadmap to address concerns over PFAS contaminated sites. Part of that plan includes categorizing sites contaminated with the two most studied and dangerous PFAS chemicals, including perfluorooctanoic acid (PFOA) and perfluorooctanesulfonic acid (PFOS), as hazardous substances under the Comprehensive Environmental Response, Compensation and Liability Act (CERCLA); more commonly known as "Superfund".
PFAS were first introduced into the manufacturing industry in the 1940's, because of their ability to resist heat, grease, stains, and water. However, since then the chemicals have been linked to a myriad of adverse health effects including liver damage, thyroid disease, decreased fertility, high cholesterol, obesity, hormone suppression, and cancer.
The chemical substances are used to manufacture a number of products, including some firefighting foams, food packaging materials, pizza boxes, popcorn bags, fabrics, nonstick cooking pans, and other products.  However, it is perhaps most known for the high volumes of PFAS chemicals in firefighting foams, used by military and civilian firefighters to fight fuel-based fires.
PFAS Water Contamination Problems
In recent years, concerns have emerged about widespread water contamination from PFAS chemicals, particularly among communities near airports, military bases and other locations where firefighter training has been conducted that dumped the chemicals into the soil and groundwater. This has led to numerous PFAS lawsuits filed by municipal drinking water utilities and individuals who have been exposed to contaminated water; many of whom say they developed various forms of cancer as a result.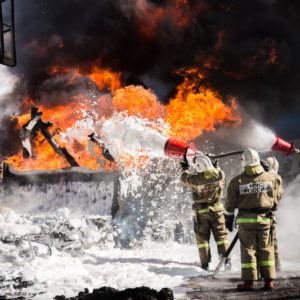 PFOA and PFOS are two of the most studied PFAS compounds. Both are considered toxic, and have been linked to liver damage, neurotoxicity, reproductive side effects and can impact the thyroid, immune system and heart, as well as increase the risks of certain types of cancer.
Both chemicals have been heavily associated with aqueous film-forming foam (AFFF), which is often linked to groundwater and surface water contamination due to their heavy use by military and civilian firefighters in both training and firefighting missions.
A Superfund designation, expected to be finalized in 2023, would require more public notifications regarding spills and releases, and would allow the EPA to sue responsible parties for the cost of recovery and clean-up efforts.
However, some wastewater and waste disposal groups are raising concerns that the law may unfairly target them for the costs of cleanup for chemicals they did not produce or release. After treating water contaminated with PFAS from other sources, responsibility for disposing of the chemicals removed from the water and solid waste falls on the utilities. They fear disposal of the chemicals will expose them to Superfund liability.
Liability Exposure Following PFAS Cleanup Efforts
The utilities are arguing this would expose them to the "polluter pays" penalties built into CERCLA, because they are the ones that have to dispose of the chemicals, even if they were not the ones who put it into the water in the first place. Therefore, they are seeking exemptions from possible liability once the classification of PFOA and PFOS as Superfund sites is finalized.
EPA officials have said the agency does not have the authority to provide such exemptions, and industry groups have turned to lawmakers to lobby for the exemptions to be passed by Congress.
Proponents of the classification note that EPA does have enforcement discretion and note that the utilities could legally go after chemical manufacturers and the original polluters for clean-up costs.
It is projected to take thousands of years for PFAS chemicals to degrade, and past studies have shown their ability to enter and stay in the environment and human body through the air, dust, food, soil, and water. Previous U.S. Centers for Disease Control and Prevention studies have shown PFAS chemicals primarily settle into the blood, kidney and liver, and could likely be detected in the blood of 98% of the U.S. population.
In addition to lawsuits brought by communities and individuals with tainted water supplies, chemical manufacturers also face a growing number of firefighting foam lawsuits brought nationwide by firefighters directly exposed during training and response exercises.
"*" indicates required fields