Some PFAS Compounds To Be Phased Out Of Food Packaging: FDA
August 03, 2020
By: Irvin Jackson
Federal regulators say they have reached an agreement with a number of manufacturers to phase out some forms of per- and poly-fluoroalkyl substances (PFAS), which are chemicals that have been used in firefighting foam and variety of consumer products, but also believed to be toxic and contaminate water supplies.
On July 31, the FDA issued a press release, announcing the voluntary phase-out of certain short-chain PFAS chemicals, including those containing 6:2 fluorotelomer alcohol (6:2 FTOH). It is used to make products, like paper and food packaging, grease-resistant.
PFASs chemicals are most commonly known for use in firefighting foam, which have been used since the 1960s during training exercises and in response to certain fuel based fires. However, exposure the chemicals has been linked to reports of cancer among firefighters and local water contamination in areas around military bases and other locations where the fire foam was regularly used during training exercises.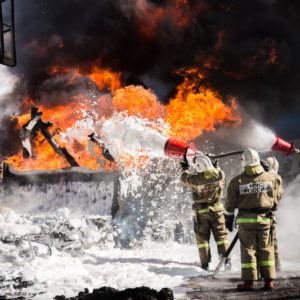 Learn More About
Exposure to firefighting foam chemicals may result in an increased risk of cancer for firefighters, military and airport personnel.
Learn More About this Lawsuit
The chemicals are also found in food packaging materials, pizza boxes, popcorn bags, fabrics, nonstick cooking pans, and other products, but are projected to take a long time to break down, potentially leading to long-term buildup risks.
They were first introduced into the manufacturing industry in the 1940's, because of their ability to resist heat, grease, stains, and water. However, since then exposure to PFAS chemicals have been linked to a myriad of adverse health effects including liver damage, thyroid disease, decreased fertility, high cholesterol, obesity, hormone suppression, and cancer.
The FDA indicates this new agreement came as a result of an analysis of previous data which revealed how prevalent PFAS chemicals were in the U.S. food supply.
In June 2019, a federal investigation found that PFAS chemicals are commonly found in numerous food products, including meats, seafood, chocolate, cake and other products. However, the FDA released a statement indicating that the levels found do not raise health concerns, based on the best available science.
The FDA now indicates that findings suggest 6:2 FTOH has the potential to persist in humans from chronic dietary exposure, and is calling for further studies into the compound.
In the meantime, beginning in January 2021, the FDA reports that three manufacturers have agreed to begin a three-year phase-out of products containing this particular PFAS compound. Even then, the FDA estimates it will take up to 18 months for the supply of paper and paperboard supplies made with 6:2 FTOH to be exhausted.
A fourth manufacturer told the FDA it stopped using the compound in 2019.
A number of chemical manufacturers face a growing number of PFAS firefighter foam lawsuits in federal courts nationwide, which are centralized in the U.S. District Court for the District of South Carolina for pretrial proceedings. Plaintiffs say exposure to the chemicals have led to cases of cancer among military and civilian firefighters, and among those who live in communities whose water supplies have been contaminated.
"*" indicates required fields