CDC To Launch New Study Into Fire-Fighting Foam Chemical Contamination Of Drinking Water
April 12, 2019
By: Irvin Jackson
To better evaluate the side effects of water contamination caused by chemicals contained in fire-fighting foam, federal regulators are calling for research applications to conduct a proposed study.
The U.S. Centers for Disease Control and Prevention (CDC) issued a press release earlier this month, along with the Agency for Toxic Substances and Disease Registry (ATSDR), announcing that they are soliciting applications for a proposed study into the health risks of exposure to perflourinated compounds and polyfluoroalkyl substances (both known as PFAS's), which are chemicals that may contaminate drinking water from increasingly popular fire-fighting foam.
The CDC and ATSDR say they expect to award funding that ranges from $500,000 to $3 million each to up to six recipients. Those recipients would have to put forward a proposal to conduct a multi-site study on PFAS exposure. Those interested have until May 30, 2019 to submit an application. More information on how to apply is available on www.grants.gov.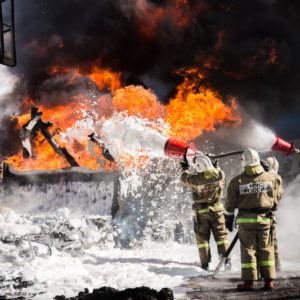 The proposed studies will have to involve at least 2,000 children and 6,000 adults from communities exposed to PFAS-contaminated drinking water. The CDC notes that possible candidate sites can include those communities whose water has been contaminated by aqueous film forming foam (AFFF).
3M Company, Tyco Fire Products and Chemguard, Inc. face dozens of fire-fighting foam lawsuits filed by both individuals and municipalities nationwide, each involving similar allegations that the companies knew or should have known about the risks associated with exposure to PFAS within its AFFF, which has been used by the military over the last several decades during routine fire extinguishing exercises at military bases nationwide.
PFASs are chemical substances used to manufacture a number of products, including food packaging materials, pizza boxes, popcorn bags, fabrics, nonstick cooking pans, and firefighting foams.
The chemicals have long half-lives, so they stay in the body and the environment for a long time.
PFASs were introduced into manufacturing more than 60 years ago and were widely and frequently used in the mid-2000s. However, since then the chemicals have been linked to a myriad of adverse health effects including liver damage, thyroid disease, decreased fertility, high cholesterol, obesity, hormone suppression, and cancer.
According to findings published in the Journal of the American Medical Association in 2012, exposure may also suppress the immune system and limit the ability of the body to create antibodies in response to childhood vaccines.
"*" indicates required fields