PFOA or PFOS in Drinking Water Are Not Safe At Any Level, Per EPA Proposed Regulations
April 12, 2023
By: Irvin Jackson
Federal regulators are proposing strict limits on per- and polyfluoralkyl substances (PFAS) in drinking water, labeling them as likely cancer-causing agents, and calling for increased efforts to remove the "forever chemicals" from drinking water entirely.
Last month, the U.S. Environmental Protection Agency (EPA) proposed new PFAS drinking water standards (PDF) for several different chemicals. These include so-called GenX chemicals, as well as perfluorooctanoic acid (PFOA) and perfluorooctane sulfonate (PFOS).
PFAS include over 9,000 man-made chemicals, which have been widely used in a number of products since the 1940's, due to the ability to resist grease, oil and water. However, they are known to persist in the environment for long periods of time, and build up in the human body, increasing the risk of a number of adverse health effects, including liver damage, thyroid disease, decreased fertility, high cholesterol, obesity, hormone suppression, and cancer.
Widespread water contamination problems from PFAS have been identified in a number of communities nationwide, particularly around military bases, airports and firefighter training facilities, where large volumes of the chemicals have been dumped into the drinking water supply from aqueous film-forming foam (AFFF) used to fight petroleum fires.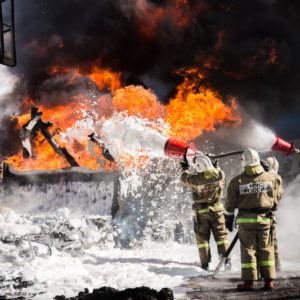 On March 29, the EPA released a technical overview of its proposed National Primary Drinking Water Regulation (NPDWR) for six PFAS chemicals, including perfluorononanoic acid (PFNA), hexafluoropropylene oxide dimer acid (HFPO-DA), which are collectively known as GenX Chemicals; as well as perfluorohexane sulfonic acid (PFHxS), and perfluorobutane sulfonic acid (PFBS), in addition to PFOA and PFOS.
The regulations consist of non-enforceable, health-based Maximum Containment Level Goals (MCLGs) the EPA will urge drinking water systems to meet, as well as Maximum Containment Levels (MCLs), which will be enforceable.
The Safe Drinking Water Act requires the EPA to put an MCL in place if it determines a substance may have adverse health effects in public water systems, and if there is a meaningful opportunity to reduce the health risks for people drinking that water. The EPA has determined all of those standards are met by the affected PFAS chemicals.
In fact, the EPA indicates it has determined PFOA and PFOS are likely to be carcinogenic to humans, which requires special consideration. Many of the other chemicals were also determined to be toxic.
Proposed PFAS Drinking Water Limits
The EPA is calling for MCLGs of 0.0 parts per trillion (ppt) for PFOA and PFOS, indicating the agency believes no detectable level of the two PFAS chemicals are safe. However, the enforceable levels will be set at 4 ppt, which some say is more in line with what is actually achievable with current technology.
Because the other chemicals have not yet been determined to be likely carcinogens, they will be regulated by the Hazard Index, which is a more complicated formula, but determines the level below which no health effects are expected. This would effectively set both MCL and MCLGs for GenX chemicals at 10 ppt, PFHxS at 9 ppt, PFNA at 10 ppt and PFBS at 2,000 ppt.
"EPA anticipates finalizing the regulation by the end of 2023," according to a press release announcing the proposed standards. "EPA expects that if fully implemented, the rule will prevent thousands of deaths and reduce tens of thousands of serious PFAS-attributable illnesses."
The agency is currently accepting public comment on the proposed standards until May 30, 2023. Go to the EPA's PFAS information website for more information on how to submit comments.
PFAS Drinking Water Contamination Lawsuits
Manufacturers of PFAS chemicals currently face hundreds of firefighting foam lawsuits nationwide, brought by individuals diagnosed with cancer after direct contact with the chemicals during their careers as a firefighter. In addition, a growing number of PFAS water contamination lawsuits are being pursued by individuals diagnosed with ulcerative colitis or cancer, after regularly drinking water known to contain the chemicals.
Given common questions of fact and law presented in the claims, all federal water contamination lawsuits over PFAS chemicals in AFFF are currently centralized before U.S. District Judge Richard M. Gergel in the District of South Carolina, for coordinated discovery, pretrial proceedings and a series of early bellwether trials, which are expected to begin this year.
Early in the pretrial proceedings, Judge Gergel established a "bellwether" program that started with a group of water contamination cases going through case-specific discovery in preparation for a series of early trial dates, which are expected to begin around June 2023.
If parties do not reach a firefighting foam water contamination settlement agreement once the pretrial proceedings and bellwether test trials are completed, or the litigation is not otherwise resolved, the cases will be remanded back to their originating federal court districts for trial.
"*" indicates required fields