Problems from Tylenol Overuse Pose Serious Public Health Threat: Study
June 04, 2012
By: Irvin Jackson
Americans commonly overuse Tylenol and other medications containing acetaminophen, potentially exposing themselves to a serious risk of liver damage, according to the findings of new research. 
In a study published in the Journal of General Internal Medicine, researchers found that almost a quarter of adults in the United States misunderstand how much Tylenol is safe to take, which may cause them to overdose on acetaminophen.
The researchers also found that nearly half of adults are at risk of accidentally overdosing by taking more than one medication that contains acetaminophen, not realizing how many over-the-counter drugs contained the ubiquitous painkiller.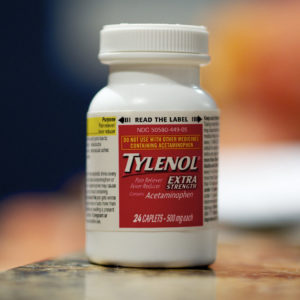 The maximum daily recommended dose for acetaminophen is four grams per day. Prior research has established that overuse of Tylenol may cause liver problems, increasing the risk of liver failure that may result in the need for a transplant.
Researchers conducted a study of 500 adults who sought primary medical care to see if they understood acetaminophen dosing instructions and to see if they would take the proper daily dose. They found that 23.8% showed a tendency to overdose on a single over-the-counter acetaminophen product by going over the four grams per day amount. More than 5% went well over, exceeding six grams per day.
The researchers also found that 45.6% of adults showed that they would overdose on acetaminophen by taking more than one product containing the drug in one day. They also found that those with limited literacy and who were heavy acetaminophen users in the last six months were more likely to overdose.
The findings highlight how misunderstanding the proper dosing amount, and what drugs acetaminophen was in, is very common and poses a serious public health threat.
According to other research published last year in the British Journal of Clinical Pharmacology, even small acetaminophen overdoses pose a serious risk of liver injury. Known as "staggered overdoses", that prior study found that patients were more likely to suffer serious and potentially life-threatening injury from small, accidental overdoses than from large acetaminophen overdoses, such as in a suicide attempt, because the risk of liver damage is not as easily detectable.
The FDA has indicated that overdosing on acetaminophen is a leading cause of liver failure in the United States, resulting in more than 50,000 emergency room visits, 25,000 hospitalizations and over 450 deaths annually. Medication errors with acetaminophen led to 14 deaths and 74 injuries from 2000 to 2010 in children under the age of 13, according to the FDA.
Due to the risks associated with receiving too much acetaminophen, an FDA advisory panel was convened in May 2011 to make recommendations about new warnings or other regulatory actions. Stronger warnings about the potential risk of liver failure from acetaminophen have also been added to all products over the past year, including clearer indications about what products contain acetaminophen as the active ingredient to avoid the risk of overdose.
Johnson & Johnson currently faces a number of Tylenol liver failure lawsuits filed on behalf of individuals throughout the United States, which allege that the drug maker sold the popular painkiller for years without providing adequate warnings about the risks associated with exceeding the maximum daily dose or the risk of liver problems from Tylenol overuse.
"*" indicates required fields